The ecommerce industry is booming. Everyone has multiple streams of income, and the chances are that at least one relates to online sales. The key to success in ecommerce is marketing and knowing your audience. As most business owners quickly find out, learning about marketing can be confusing due to the terminology involved. 
People often use the wrong terminology, further confusing those who are new to the industry. Most people wonder what the difference is between dropshipping vs. affiliate marketing, dropshipping vs. wholesale, and exactly what dropshipping means.  
This article will take a deep dive into what dropshipping is and the terms that are commonly confused with this concept.
An Insight Into Dropshipping Terminology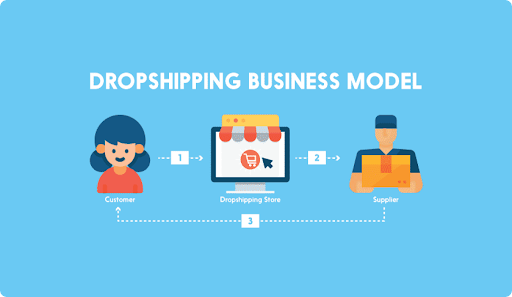 Dropshipping is a system where the store doesn't keep its product in stock. Instead, the products are sent directly to the customer from the manufacturer. Dropshipping follows an order fulfillment model. This means that sellers don't have to deal with handling products directly. 
Unlike the typical retail model, using the dropshipping method doesn't require as much startup capital or include as many operational costs. There's no need to spend exorbitant amounts of money on inventory or other overhead fees. 
The merchant's main role is to acquire customers and attract traffic to the store. Other than that, the merchant will have to process orders and do some light administrative work. 
By 2025, the dropshipping market will be worth approximately $557.9 billion. Running a dropshipping store can possibly yield pretty high returns, averaging profit margins between 15% and 20%. As lucrative as dropshipping can be, it still has its advantages and disadvantages like any other business. 
The low upfront costs of dropshipping, coupled with not needing to store inventory, are attractive benefits to prospective business owners. On the other hand, the profitability of the store depends on its dropshipping partner's ability to be reliable. 
Dropshipping vs. Affiliate Marketing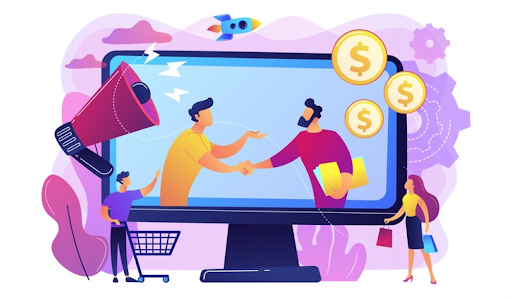 Entrepreneurs in the ecommerce industry usually belong to two different groups: dropshipping or affiliate marketing. Some people accomplish their financial goals by doing both. Affiliate marketing is a system that involves marketing products on behalf of another company. 
In affiliate marketing, you get paid a commission when a conversion is made. The specifics of what counts as a conversion varies. Simply getting someone to click on the merchant's website can count as a conversion. At the same time, some companies require a purchase to be made to obtain a conversion.
There's no shortage of affiliate marketing programs to choose from, seeing as around 81% of brands offer them. The popularity of affiliate marketing has been increasing at a rapid pace, even though it can be difficult to grow the business. 
Successful affiliate marketers can make thousands of dollars a day without having to deal with customer support or high startup costs. 
Dropshipping and affiliate marketing are two different things, but they do have some similarities. Whether you're considering dropshipping or affiliate marketing, you:
Don't have to buy stock or inventory
Don't have to distribute store stock
Earn money on each successful transaction
Earn money through "passive" income streams
Still, the differences between the two are clear. Affiliate marketing is easy to get started, but it is a bit of a grind if you want to make serious money. The promotion strategy and call-to-action are vital because you cannot make a commission if nobody is paying attention to what you're attempting to market.
With dropshipping, the suppliers do all of the heavy lifting. It is easier to scale a dropshipping business with less work because the bulk of responsibility lies with the vendor. 
Dropshipping vs. Ecommerce
Ecommerce is an umbrella term that is used to describe products sold over the internet. The ecommerce industry is colossal and growing more every day. There are approximately 24 million ecommerce sites, and the market is expected to reach $5.4 trillion in 2022. 
The online share of retail sales skyrocketed over the course of one year, going from 15.8% to 19.6% by the end of 2020. 

Ecommerce stores typically operate by ordering items in wholesale amounts, selling them online, and fulfilling each order internally. 
The term dropshipping is sometimes used to describe ecommerce and vice versa. This is actually incorrect. eCommerce is more of an umbrella term to describe online transactions, while dropshipping is one specific model for eCommerce businesses to use.
The only attribute they both share is being on the internet. Dropshipping is a system of selling products that eCommerce stores can use. When talking about dropshipping vs. eCommerce, remember that dropshipping is a business model commonly used in eCommerce stores. 
However, not all eCommerce stores use dropshipping, and not all dropshipping comes through eCommerce stores. Some people have built thriving dropshipping businesses on social media such as Instagram or Facebook. 
Both are excellent options for buying and selling goods online, but it is important to know their differences. ECommerce is usually a retail store that handles order fulfillment and customer support online.
ECommerce platforms that almost everyone has heard of include Shopify, Squarespace, and Etsy. Remember, dropshipping is a method that can be used with an eCommerce store, but the distributor is responsible for inventory and shipping orders. 
Using the dropshipping business model with an eCommerce store is the norm, but others have made successful businesses on different platforms. 
Dropshipping vs. Wholesale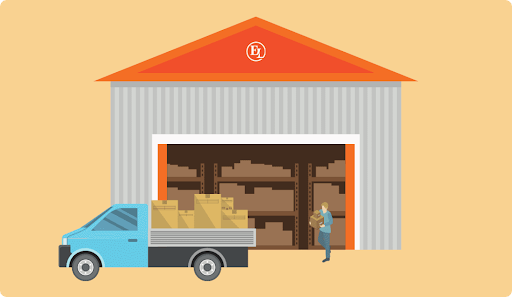 Wholesale is a term used to describe goods being sold in bulk by distributors. Instead of selling directly to the customer, wholesalers choose to sell to retailers. Wholesale prices are generally 30% to 50% lower than retail, but you have to buy in bulk quantities. 
Stores that have enough capital tend to buy wholesale to take advantage of the steep drop in prices. 
Dropshipping is drastically different. Dropshipping transactions are usually made on individual items. When a customer places an order on a dropshipping site, the dropshipper buys the item from their distributor. The distributor then sends the item directly to the customer.
Stores that use a dropshipping service don't get the same discount on bulk purchases as wholesalers. However, not needing a place to store inventory saves dropshippers on overhead costs. The only similarity these methods share is that they both require you to purchase from a wholesaler or a vendor. On the other hand, here are the differences:
You have to buy inventory upfront with wholesale
You cannot get wholesale prices with dropshipping
You will usually have to stock your own store for wholesale purchasing
Dropshippers can be diverse with their product range
Extra space, like a warehouse, is not needed with dropshipping
As you can see, wholesale and dropshipping are very different models. 
Dropshipping vs. Print on Demand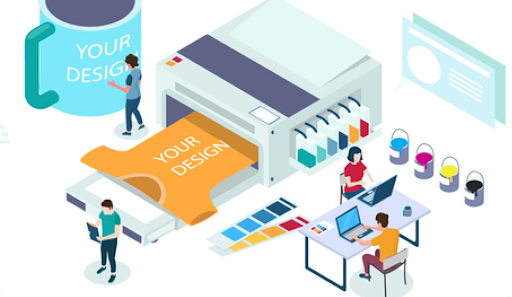 Print on demand involves finding a partner to print garments and other items with designs you create. After the design and manufacturing process, the print partner sends the product directly to the customer.
Print on demand is another industry with impressive growth. In 2020, just the global t-shirt printing market alone was valued at $3.64 billion. By the time 2028 rolls around, the custom t-shirt printing market value is expected to be at least $7.57 billion.
Print on demand offers many of the same advantages dropshipping does. In addition, print on demand stores can be easily integrated with eCommerce stores, making sales a breeze. Like dropshipping, everything after the customer places an order is handled by your print on demand supplier. 
Dropshipping vs. print on demand does have a bit of overlap, so people become confused about what makes them different. Print on demand also has a low start-up cost and saves you the trouble of distributing products on your own. 
The key feature of a print on demand business is that you get to sell your own designs. A customer places an order with the merchant, and the merchant forwards the order to their supplier. The supplier then adds your artwork to the product and ships it directly to the customer. 
Printbest can help your business succeed with quality print on demand products and great service. 
Get started with print on demand
We'll print your designs on T-shirts, hoodies, mugs, and more. Then we'll dropship them to your customers.
Move Forward with Dropshipping
The markets for eCommerce and all its facets are growing rapidly. With several different business models to choose from, people looking to get into the industry can get a little mixed up.
It is a good idea to learn what each term means from a reputable source before taking action in order to make the most of your company's valuable time and money and set your business up for success. There are so many decisions you have to make in order to run a profitable business, and choosing the best sales method is one of the first. 
The other sales methods that are regularly confused for dropshipping do not actually have much in common with dropshipping, except for print on demand businesses. The concept is almost the same but slightly different. 
Print on demand businesses handle order fulfillment and manufacturing, saving the merchant a great deal of time and money. 
Dropshipping's popularity has resulted in overwhelming competition in certain niches, meaning it's more difficult for newcomers to advance. Rather than taking weeks to research vendors and spending money to stand out in your niche, you can market your original designs! 
If you're looking for dropshipping services, visit Printbest for print on demand advice and assistance.