Business plan for your new Shopify T-shirt store? Check. A financial plan for the next quarter? Check. Marketing strategies to gain customers? Check. Shopify domain name for your T-shirt store? NOT YET!
As a business owner, your Shopify domain name isn't something that should take a back seat. After all, your customers will use it to type into a web browser when they want to visit your online store. This name is the starting point for your business and will set the tone for your customers to find you, think of your brand, and recommend it to others.
A domain name is unique to your website. Once you have bought it, no other business can use it. 
Now, think of your Shopify domain name as the face of your online store. We're sure you do not want it to look unprofessional or tacky. For example, consider these domain names: lotterio.com and winthelottery2day.com. The first one sounds more professional, doesn't it?
Finding a domain name that suits your brand while being trustworthy and easy to remember might seem like a task. But, trust us, it is quite easy. Your Shopify domain search comes to an end as we will take you through a few simple pointers that can help you get a domain name for your Shopify T-shirt store in our guide.
Tips to Get a Domain Name for Your Shopify T-Shirt Store
Where to Buy a Domain Name
Now that you know why a Shopify domain name matters so much, your next question could be, "where can I buy one?" You can consider any of the domain registrars on the market. As the name suggests, these are companies that register and manage domain names for all websites globally. Shopify, Domain.com, GoDaddy, DreamHost, and BuyDomains all offer  names for you to choose from. But to help you save time, we recommend a Shopify domain name, as it is known for its easy configuration. 
How to Buy a Shopify Domain Name
Go to the "start" menu in the top left-hand corner
Click on "online presence", then click on "web address"
You will now see a screen with a box that lets you search for available domain names
Type in which domain name you'd like to use, then click on "Generate domains"
You will then get a list of available names to choose from
In front of each name that is available, you will find the annual pricing. Click on the one which suits your brand
Enter your email address and password
Submit your address
Finally, click on "Enter my Store" to get started!
How to Choose a Domain Name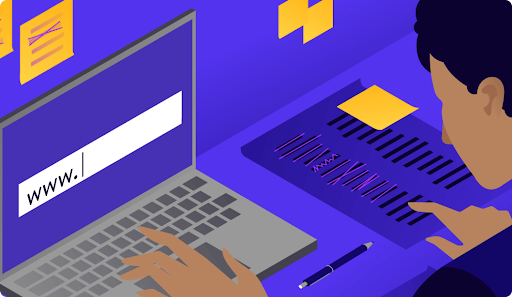 How do you choose a name that's easy to remember yet reflects your business? Should you go for something classic or something that is trending? And what does the ideal Shopify domain cost?
Many questions might pop up when choosing a domain name on Shopify. To make this process simpler for you, we recommend keeping in mind the following framework:
Choose an easy-to-remember name so customers can find your store easily and refer you to others.
Make sure the name is easy to pronounce. 
Keep your domain name under 15 characters
Avoid combining numbers and words. For example, avoid tshirts4you.com.
Stay away from abbreviations. 
Choose a domain name that reflects what your business is. For instance, QualityTshirts.com is very self-explanatory
Try including keywords to help make it easier for the search engines to list your store in their results. To make your brand name stand out, you'll need to get creative and combine keywords. Begin with a few broad terms that represent your items, followed by your company name. In this case, it can be "T-shirts," "apparel," "clothes," and "customized T-shirts". 
Avoid using double letters and hyphens in your domain name to prevent spelling mistakes.
Use social media platforms like Instagram, Facebook, and Tiktok to find domain name alternatives.
Along with these tips, you can use Shopify's domain name generator. While this tool might not always help you find the perfect name, it can help you get closer to it by recommending alternatives.
How To Choose a Top-Level Domain Name
A top-level domain (TLD) name is something that comes at the end of your web address. For example, in "google.com," the ".com" is the top-level domain name. Again, you have several options to choose from. A few of these include ".org," ".edu," ".info," and .net."
You might have noticed there are several businesses using ".com" as their TLD name. This is THE most used TLD name. In fact, according to Statista, 54% of global websites used the .com top-level domain name. Since it is used so often, it also reduces your chances of getting it for your online store. However, don't end your search just yet!
According to Statista, 54% of global websites used the .com top-level domain name.
To choose a suitable TLD which isn't limited to ".com" start with the purpose of your website. Considering you have an ecommerce store, ".store" can be a great option for you. 
Another option is to use your country code. If you are running your T-shirt store only in a specific country or region, it makes sense to use the country code. So, for running a store in the States, try qualitytshirts.us.
Defining the purpose, being location-specific, and factoring in SEO are a few ways to find an ideal TLD. If you can't find a suitable TLD for your preferred domain name, it may be best to select a different name.
Link Your Domain Name with Your Shopify Store
If you have purchased your domain name from Shopify, you are good to go. Your domain name will be linked automatically to your online T-shirt store. 
However, if you have bought a domain name from any other domain registrars, such as GoDaddy or Namecheap, you need to connect it manually to your Shopify store.
Connecting your domain directs your URL to your Shopify store so that customers can enter it into their web browser and visit your store. Please keep in mind that connecting your domain to your online store doesn't transfer it completely to Shopify. You will continue using your third-party domain provider to pay for your domain, renew it, and manage settings.
Steps To Link Your Third-Party Domain Name To Your Shopify Store
Gather the following information
Login information for your third-party domain provider account
Your domain provider's requirements
The Shopify IP address, which is 23.227.38.65
The www CNAME record, in this case, shops.myshopify.com
 Update your DNS settings in your third-party domain provider account
Open "DNS Settings" or "Domain Management Area".
If needed, change the Hostname to the "@" symbol
Delete any existing A records
Under the CNAME record, change the name "www" to "shops.myshopify.com".
Save your changes
Now login to your Shopify account
Go to "settings", and then "Domains"
Enter your existing domain name when prompted, and click on "next"
Them, click on "verify connection"
Within the next 48 hours, your domain will be verified. And, finally, you will have your domain name as the address of your online store
Strengthen Your Shopify Game With The Right Domain Name!
By now you should have a good understanding of the steps required to obtain a domain name for your Shopify T-shirt store. The number of steps involved can initially seem overwhelming, but if you choose to buy your domain name directly from Shopify, you'll have more room to direct your time and effort to some other important task. That's how easy it is to buy and manage your domain on Shopify.
Remember, your domain name isn't just an address for your online T-shirt store. It is how you position your ecommerce store to the online marketplace. It's also how your customers will remember you and recommend you to others. So, make sure your domain name is:
Easy to remember
Relevant to your store
Short
Free of typos, hyphens, and double letters
SEO-friendly
Once you have your domain name ready and your Shopify store up and running, it's time to focus on designing and delivering quality products to your customers. One of the ways to ensure your quality and that the entire customer experience won't be compromised is by partnering with Printbest. We offer affordable print on demand services to help you grow your profits, and fast dropshipping to give you happy customers more quickly. 
So, if you aren't very familiar with the printing, packing, and shipping process, you can let an expert like Printbest take care of it for you. For more information about our services or to learn more about improving the performance of your Shopify T-shirt store, visit us at Printbest.