Many people will enjoy their favorite beverage daily, and most prefer to have their own mug or cup. As the number of people on the planet grows so, more mugs are needed, and the global mug market is expected to reach just over $27.23 billion by 2028.
Mugs get used often, almost daily for many people, making them a great choice for a gift. While the fact that mugs get used often makes them a great gift, the recipient is not the only person who will benefit. Because mugs are used often, including in the office and other public places, they are visible. Every time somebody uses a mug with your design, your brand's visibility will get a boost.
What's even better is that it's now easy to make your own designs for mugs, and custom designs are an even better option for a gift. Custom mug designs can be made to appeal to people's interests or perhaps something amusing.
Is Selling Mugs Profitable?
One of the most obvious questions is whether money can be made from selling mugs. The easiest answer is that it depends on whether or not you do it right, but you will find plenty of help. For people who want to sell mugs online, the good news is that it's now easier than ever before. This is largely thanks to various platforms that give you the tools you need to build and market your own online store.
However, there are still many steps involved that could make it daunting for people thinking of starting their own online custom mug business. So, we've created this article to help you understand how you can sell your print on demand coffee mugs online.
How Do I Sell Print on Demand Mugs?
One of the best business solutions nowadays is often to sell online over websites or ecommerce stores. However, before you sell anything, you will need a store to sell from, which is now relatively easy thanks to developments in ecommerce platform technology.
Platforms like Shopify and BigCommerce make it easy for anybody to build an online store, even with very limited technical knowledge. The platforms include tools that let users build web pages by placing different components simply by dragging and dropping them into position. Such tools make it easy for store owners to arrange their website so it looks and behaves just as they want them to.
Not only do ecommerce platforms make it easy to build the aesthetics of your store, but they also provide numerous useful features that will help you manage your store and sell your products. For example, easy to use shopping cart features make it easy for your customer to order your products and pay for them.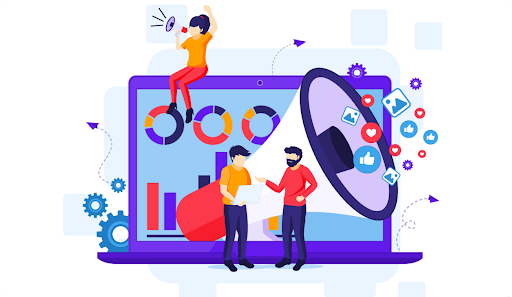 Even the best ecommerce store will be of little use if nobody knows it exists, so you will need to market your store so people can find you. There are various ways you can achieve this, and online marketing methods are usually the best approach.
One of the most common online marketing methods is search engine optimization (SEO), which helps people find your store when they search on Google. SEO involves on-site and off-site optimization. On-site optimization involves enhancing your website and its content to make it easier for Google to rank you. Off-site optimization mostly involves getting links to your site on third-party sites, which means creating a lot of quality content like blogs and articles.
SEO can be extremely effective, but it takes time to see results. Having to wait weeks or months to see results is not ideal for new companies that need to make revenue quickly, although it's a sound long-term strategy for companies that have the resources to invest.
Another common option that's popular for new companies, in particular, is pay per click (PPC) advertising, which shows ads for your store on platforms like Google, social media, and websites. PPC is popular among fledgling businesses because it allows them to advertise on highly visible platforms and get noticed even among large, established businesses.
With PPC marketing, you don't pay a penny unless somebody clicks on one of your ads, and each click will cost just a few cents. You can also ensure your ads are highly targeted, helping to make your ads campaign more cost-effective. PPC is also relatively affordable and gives you flexibility over how much you pay.
Organic Social Media Marketing
A third popular option is to promote your products and your store using organic social media posts. This means posting content on your own accounts rather than paying for ads to be displayed. One of the main benefits of this approach is that people can easily share your content with others, significantly boosting your brand visibility. Focus on creating useful content to make it more likely people will share it with others.
There are various other benefits to using social media for marketing, such as creating a channel for your customers to contact you. Social media platforms also make it easy for you to communicate with your target audience, allowing you to ask questions and get feedback on ideas and products.
These online marketing methods can be learned and there is a vast amount of information online. However, it can also be time-consuming, and you will need to learn a lot to get the best possible results, making it a good idea to hire an expert if you can afford it. Otherwise, you should still be able to get reasonably good results if you manage online marketing yourself.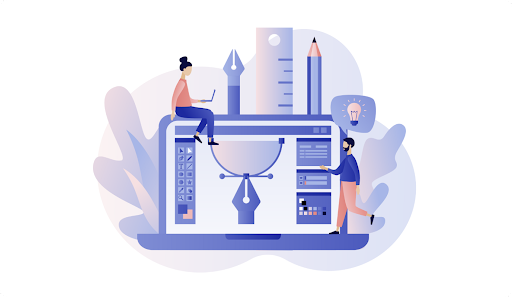 You can be as creative as you like when designing print on demand mugs. However, before you get started, you should define your target audience to help guide you in making designs that appeal to people shopping at your store.
Interests like hobbies and sports are often a good idea for designs, while something humorous can also sell well. You can also try focusing on niche interests that may not see much demand overall but are still popular among certain demographics. If you're struggling for ideas, you can visit websites and forums used by designers, where you will find lots of inspiration.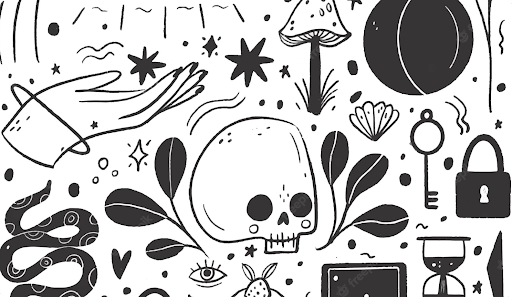 Designs can be drawn by hand, which is often recommended in the early stages to help you get feedback on ideas without spending too much time on ideas first. However, you will probably need your designs to be digital before going to print, and tools like Adobe Illustrator or Photoshop are ideal for the task.
Other considerations include the type of mug you're printing on as well as its size and shape. Not all mugs are suitable for printing so you will need to check first before your start.
Find a Print on Demand Partner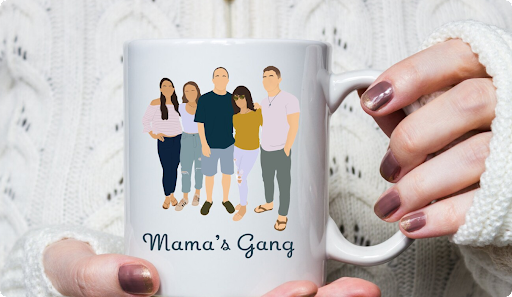 A print on demand partner is one of the most important components to consider when selling print on demand mugs online.
One of the reasons print on demand is popular is that you don't have to invest in inventory up front. Instead, they receive a share of everything you sell. Print on demand also lets you test designs in a low-risk way without investing in experimental stock.
A good print on demand partner will print your designs on mugs for you and offer much more. Printbest, for example, offers print on demand coffee mugs with lids, glass beer mugs, classic ceramic mugs, and more. A print on demand partner will also send the mugs directly to your customers, taking much of the work away from you.
Because finding your print on demand partner will be an essential cog for your business, it makes sense to do your research before deciding on one. You can look for reviews online, while you can also try asking colleagues and other people in the industry for their recommendations.
Start selling mugs online
Customize and sell ceramic mugs, beer mugs, bottles, tumblers, and more. We'll print and dropship them for you!
When selling print on demand mugs online, you will need your own store, which you will also need to market. Thankfully, this is made relatively easy for you by modern ecommerce platforms with easy to use design features.
You will also need to think about how your mug designs will appeal to potential customers, so you should try and define your target audience. It's also recommended to look to competitors for inspiration but be sure not to copy designs outright.
One of the most important aspects of any print on demand business is the print on demand partner you work with, so do your research and choose carefully. You will be reliant on your print on demand partner for quality products and a good service, and the right partner will help ensure your business is a success.
Printbest is a professional print on demand company that can help you create quality custom mug designs that your customers will love. Our team will also provide an outstanding all-round service for your customers, making Printbest a powerful business ally that can help your business thrive.