Do you have an online store and you're wondering which products to add? If so, you'll be pleased to hear that custom drinkware is a great option.
The global market for drinkware is expected to be worth just under $35 million in 2027, up from nearly $26 million in 2020. Such statistics make it clear that the market holds a lot of potential. The drinkware market has become even more appealing in recent years thanks to the booming ecommerce industry that makes it easier for entrepreneurs to do business.
Not only can ecommerce store owners do good business selling drinkware, but they can also take it a step further by selling personalized drinkware. With the help of the latest printing technology, high-quality designs can be printed on drinkware at affordable prices.
This article takes a closer look at why adding custom drinkware to your online store is a good idea.
Why Sell Personalized Drinkware
As mentioned, the drinkware market, in general, is expected to grow significantly in the coming years. Such a statistic should come as no surprise, considering people use drinkware all the time, and custom drinkware specifically is also very popular.
Part of the reason for the popularity of custom drinkware is that it makes a great gift. Whether for father's day, mother's day, birthdays, or just because you want somebody to know you're thinking of them, a personalized mug or stein will be very well received.
Whether it's print on demand tumblers, mugs or another type of drinkware, you can be confident that most people will be very grateful for their gift. Even better, such a gift will be appreciated by people from all walks of life and of all ages.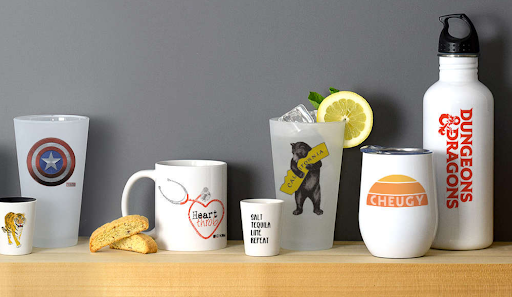 There's a wide variety of drinkware to choose from, including:
Print on demand mugs
Print on demand tumblers
Print on demand steins
Print on demand stainless steel bottles
Print on demand
Such variety means you can offer a wider range, thus appealing to more potential customers. Of course, custom drinkware adds even further to the variety, and you can make designs with different demographics in mind.
Depending on your target audience, you can make designs with cartoon themes or other popular topics. Alternatively, you could create designs that focus on particular bands or other pop culture themes.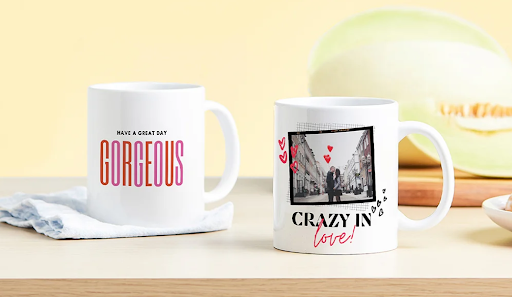 The variety of different types of drinkware will help you get creative. Many print on demand mugs offer a relatively large canvas to work with, allowing you to use intricate, great-looking designs.
You can even try getting creative by combining drinkware with other products like coasters. Selling matching products will help to increase the appeal of your products and help you to sell more with each order, helping your business to succeed.
Drinkware tends to get used quite a lot, which helps to make it visible. For example, countless people reach for a coffee mug in the morning to get their caffeine fix, while many others like to relax with an alcoholic drink or two in the evenings. People also tend to take their print on demand mugs to work and to other places where many people will see them.
Such visibility will help to give your business a considerable marketing boost. If your brand is visible on the design, then people will get to see it every time drinkware is used. Even if your brand is not visible, eye-catching designs are likely to have people asking where the product was purchased from.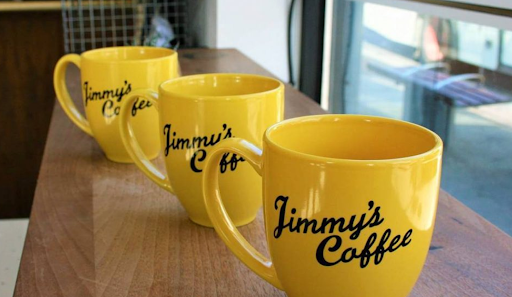 The visibility we mentioned previously helps to make personalized drinkware an excellent marketing tool. For example, many companies will invest in custom drinkware to give away to prospects to help ensure they have a reminder of the brand. 
The popularity of using drinkware as a marketing tool will help expand your customer base to companies looking for marketing merchandise. Not only that, but companies buying drinkware for marketing reasons are likely to need fairly large orders.
Selling custom drinkware will also help you gain customers from the food and beverage industry. For example, many restaurants will want branded drinkware when serving their guests.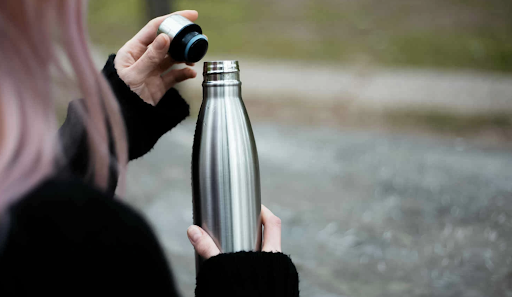 Many consumers nowadays have sustainability in mind when making buying decisions, and any successful businessperson will tell you that giving consumers what they want is a good idea.
Customizable drinkware like stainless steel bottles can be used time and time again. This means less demand for drinkware made from plastic and other materials that are harmful to the environment. Not only will you get to benefit financially, but selling custom drinkware can also help you do your part for the environment.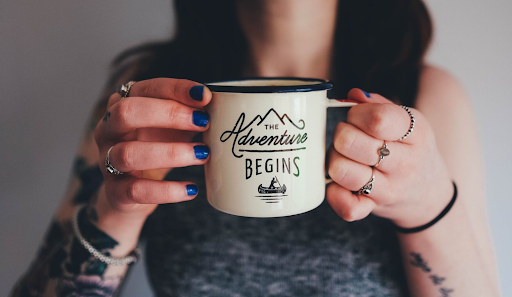 Many of the most successful businesses focus on a niche. While doing so is a very good business practice, it doesn't mean you can't add to your catalog to help you appeal to a wider audience.
For example, if you focus on an automotive niche, then you might already sell T-shirts and other garments with automotive designs. If you add drinkware to your catalog, you can help make your brand appealing to more people.
Of course, when somebody does buy something from your store, they may also buy other items. This means more revenue that will help your business flourish.
The Print on Demand Model
Another solid reason to sell personalized drinkware is that it's so easy to get involved in, making it ideal for entrepreneurs who are just getting started. Some of the benefits of print on demand include the following:
No Inventory
One of the biggest hurdles facing many potential new store owners is inventory. You obviously need something to sell, and up until relatively recently, you would have had to invest in inventory up-front.
However, the print on demand model means that online stores can now sell products without having to invest a penny of inventory first. Instead, orders are processed by their print partner as they come in, with the store owner and the print partner each taking their share.
Not only does this means new ecommerce store owners won't need to find investment capital up front, but it also eliminates the financial risk of buying inventory that doesn't sell.
Affordable Access to Advanced Printing Equipment
Printing equipment can be costly to buy and maintain, putting it out of the financial reach of most fledgling ecommerce stores. However, the print-on-demand model means store owners benefit from the latest print technology without investing in expensive tools.
Not only that, but the print partner will also handle any maintenance and repair of the equipment as needed. This leaves store owners to dedicate more of their time and money to other aspects of running their company.
Easy Experimentation
In most cases, it's all but impossible to be 100% sure a product won't sell well. Even great designs won't necessarily hit the right buttons meaning your store struggles to generate revenue. It would be a good idea to experiment with different designs first, but it's often necessary to make large orders even if you want to try a few ideas out.
Fortunately, the print on demand model typically uses print technology ideal for short runs. With this in mind, experimenting becomes more affordable and comes with less risk. This gives store owners more freedom to experiment with designs, helping them have a catalog of products that consumers are eager to buy.
Easier Management
Running an ecommerce business can be a lot of work. There are orders to process and customers to service in addition to website maintenance, marketing, and numerous other aspects essential for any company. The workload can become difficult to handle, and mistakes can happen. Recruiting employees is too expensive for many new ventures.
However, stores that use the print on demand model have less work to do. For example, there's no need to keep stock of your inventory because your print partner handles everything. You also won't have to spend time wrapping and sending products because your print parent will also handle that for you.
You customize, we print
Sell customized bottles, mugs, and more in your online store. When you get an order, we'll print it and ship it.
Adding custom drinkware to your online store will provide various additional revenue sources for you to tap into, boosting sales and revenue. Not only that, but it will also help get your store noticed, further helping to improve your bottom line.
When selling any type of printed product online, it's important to work with a reliable print on demand partner. A good partner will help your business flourish by creating products that will have people coming back for more. They will also help make it easier for you to run your business and help ensure your customers are receiving an excellent service all around.
If you are looking for a print on demand partner, then the team at Printbest looks forward to hearing from you. In the meantime, you can look through our catalog which will help to give some ideas and inspiration.