Now that you've set up your online store, it's time to think about offering merchandise for revenue potential. There are an overwhelming number of options you can choose from online print on demand resources: T-shirts, hats, mugs, kazoos, and even glow sticks. While you can offer custom whimsical merchandise like glow sticks that might appeal to one half of one percent of the population, it makes sense to spend your time (and money) wisely and identify cool merch ideas and items based on popularity. We've created a custom list of "must-haves" for your starter pack to help you increase the potential for additional revenue.
We've taken the guesswork out of your countless choices by outlining which fan merch items are popular and profitable based on seller analytics and data. What's more, these choices are offered by a wide variety of print on demand suppliers. Here are a few of our favorites for merch ideas based on popularity. Rock your online shop–the informed way!
Merch Ideas for Your Online Shop
T-shirts are by far the most popular option for online merch. They are the cornerstone of most casual wardrobes and the common choice of many customers, from those who love streetwear style to preppy college students, busy mothers, and retired sixty-somethings. It's likely that your potential customer has many tees, no matter their age, gender, or style. They are stylish, practical, and expressive–the perfect intersection of form and function. If you're selling your own designs bearing your logo, T-shirts can also be great advertising because when customers wear them, your brand will be promoted.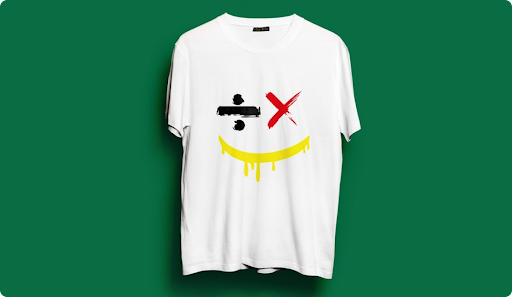 What's more, the numbers prove the popularity of T-shirts: in 2020, the global marketplace for print on demand tees was valued at $3.64 billion, and is expected to nearly double in demand by 2028. That means in less than seven years, the forecast for demand is a whopping $7.57 billion. 
Some popular examples of T-shirt merch on Etsy are custom photo shirts so your customers can choose their own image to print, custom ampersand name shirts, v-neck shirts, and scoop neck shirts. Each varies in price from $16 or so on the low end to $40 on the high end.
Hot tip: With print on demand services, there's no need to waste money on boxes of inventory, storage, and shipping. You can expand your offerings in a wide variety of styles, colors, and sizes without any upfront cost.
Custom your merch
Get your designs onto T-shirts, hoodies, mugs and more. Then easily add them to your store.
The cold-weather alternative to T-shirts? Hoodies. They're versatile, great for layering, and functional with a built-in hood that protects from the elements. What's more, they're cozy and comfortable. While they are more expensive, hoodies can often be sold as a premium product, and typically vary in price from $15 to $200. While pull-on hoodies are especially popular with the streetwear styles of this season (a global market of $185 billion), zip-up options or styles with decorated hoods can demand a higher sale price. 
Hot tip: Since hoodies are more popular during the colder months between October or November and April, run a strategically-timed sale or special promotion concurrent with fall holidays like Labor Day, Halloween, or Thanksgiving to target when fans tend to stock up. 
If your audience consists of families, kids, parents, or grandparents, children's apparel may be a strategic choice for your merch offerings. Children's clothing such as T-shirts, long-sleeve shirts, sweatshirts, and hoodies make popular gifts with a price range of $15.00 to $40.00. TikTok merch for kids is also a viable idea for product offerings with lots of search volume. 
Hot Tip: Note that children's sizes, baby sizes, and youth sizes are all different, so make sure that you're using the right terminology so your customers can identify the product and age range while making a purchase. This will help reduce returns and miscommunications. 
Mugs are another practical item perfect for gift-giving. They are offered in a variety of sizes and styles: standard mugs, tall "latte" mugs, travel mugs, insulated tumblers, beer mugs, and more. They're also another conduit for your branding and image to help promote beyond the initial sale. If your customer buys an insulated travel tumbler with your logo, for example, and takes it to work, their coworkers are likely to see that logo and have brand recognition several times over the course of a year. Your customer will also have a certain amount of latent brand recognition and familiarity by seeing your logo in repetition. 
Hot tip: Find out the care instructions from your print on demand supplier and include them on your produce page so customers know whether they are dishwasher-safe.
Like mugs, water bottles are a savvy and strategic product offering, as your eco-conscious customer will likely take them along while shopping, hiking, or working–providing more brand exposure for you. Water bottles also have the added bonus of being sustainable and friendly to the environment by reducing the reliance on single-use plastic bottles. Even better is that the rate of orders of water bottles have grown 235% YoY (year over year), based on a recent Shopify study of top trending products for 2022. Water bottles are manufactured with a wide variety of materials such as stainless steel, squeeze bottles, BPA-free plastic, and more; and typically vary in price from $5 to $50. Lids also vary in size and material; from large screw-top stainless steel lids to plastic snap-tops.
Hot tip: Market your bottle products as eco-friendly and sustainable, as they help reduce single-use plastics and are a reusable product. 
Custom canvas prints are great gift ideas for the holidays and can be used as decorative elements for the home, office, or dorm. They remind the customer of your brand whenever seen, and are usually available in a variety of sizes. They are also great for displaying art and photography, and sell for a range of about $16 to $70, depending on their size. Everything from decorative wall art to custom printed photographs is available online. 
Hot tip: Ensure that you choose the stretched canvas from your supplier (not the canvas rolls, which are not stretched along a frame). Also make sure that you account for the extra one to two inches of image that stretch around the frame on all sides. 
Posters are a popular merch choice whether you want to sell them as-is or sign them. Like canvas prints, posters are great for décor, but less formal and less expensive. They will likely appeal to a large range of customers. They vary in price from $5 to $100 or more, and can feature everything from vintage-inspired artwork to concert posters and commemorative posters. 
Hot tip: Posters are great for memorializing a special moment from your channel or content. 
While stickers may not command a high sale price (they vary from $1 to $10 or so), they are very popular items. Their low cost also opens opportunities for sales to your average audience, as opposed to your superfans. They can be used to promote over and over to your audience, depending on where they're displayed. Styles vary from die cut to vinyl stickers and holographic stickers. 
Hot tip: Stickers don't have to be printed on plain white stock. Consider clear stickers, holographic stickers, silver foil material, and other options. 
Hats are a great functional and versatile accessory choice appealing to all ages and a wide variety of customers. While designs have historically been embroidered instead of printed, many are now offered by print on demand companies as a lower-cost alternative to more pricey embroidering. A variety of hats are available for sale online, from baseball caps to beanies, and prices vary from around $12.00 to $40.00.
Hot tip: Baseball caps are the most common and popular type of haberdashery sold online, but beanies also have good sales potential in winter months and in colder locations.
While there are an infinite number of product offerings available, it's best to consider trending items based on popularity for your shop to increase the potential revenue it can generate. We've collated this list based on popularity, but if you need more ideas, check out a few resources from eCommerce CEO article, "What To Sell Online: 21 Product Ideas That Drive Ecommerce Sales," or research products on Google Trends. 
Consider partnering with a print on demand company: you'll be able to sell a wide array of products without investing in inventory, storage, or shipping, so go nuts with product offerings for your customers! Get started with Printbest: our prices are an average of 20% lower than other suppliers, and our turnaround time is as little as one to two business days. Check out our integrations with Shopify, Etsy, and WooCommerce. These are just a few merch ideas to help you kick off, but there are a wide array of products available to match your business plan and key markets. Happy selling!