Creating the perfect T-shirt design not only takes graphic design skills but also the understanding of what works and what doesn't for print. We often see designs that look great on a computer screen but the moment they're printed on a garment, they go from WOW to BLAH.
How do you make sure your shirts look just the way you imagined them (or even better), once printed? Read on to explore the practicalities of printing your designs onto T-shirts.
Whether you've just started a T-shirt business, or are ramping up, these tips will help your designs look their best while avoiding mishaps and less-than-optimal print results.
Top 6 T-Shirt Design Tips
1. Design for the Right Printable Area Size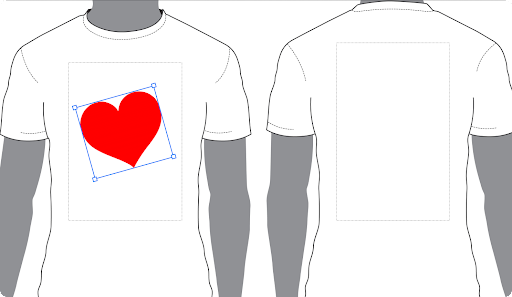 When it comes to printed T-shirt designs, the image size is critical. Before you create or select an illustration, know your print on demand supplier's maximum printable area and consider how much of this area you are planning to take up.
Your images should be at least 150 dots per inch (DPI), although we recommend a minimum 300 DPI for best results. Keep in mind that image DPI decreases if you enlarge the size, making your design blurrier. Likewise, if you stretch to fit a square design into a rectangular printable area, it will cause distortion.
Smaller sizes (e.g. S and XS) may have a smaller printable area, so your design might shrink. For most adult-sized apparel at Printbest, the printable area begins 3 inches below the collar. For Men's/Unisex XS, Women's S, and anything smaller, the printable area begins 2 inches to 2.5 inches below the collar.
Also watch out for tiny fonts and details. Simply entering a new resolution value into the file will not result in a higher resolution print. If the resolution of your artwork is too low, the best solution is to redesign it.
The bottom line is that T-shirt design size and DPI matter. They can make or break your image.
Printbest takes the guesswork out of T-shirt design by offering an online designing interface that allows you to adjust the image size while monitoring the DPI changes.
Fast and simple print on demand
Customize T-shirts, hoodies, mugs, and more with your designs.
2. Be Aware of the Color Mode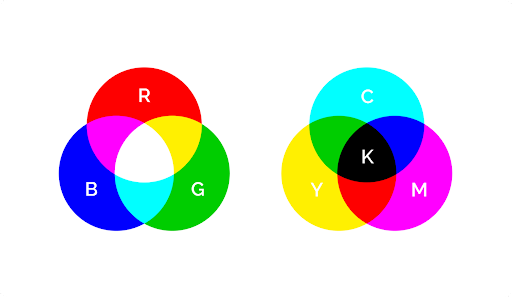 Along with T-shirt design dimensions, understanding the color mode is also important. You should be familiar with the two most common ones—RGB and CMYK. Let's take a look at each one of them.
RGB stands for red, green, and blue. It is an additive color mode that uses white as a combination of all primary colors and black as the absence of light. Digital media designs are usually RGB because these mediums emit red, green, or blue light.
Printers usually use the CMYK mode, which stands for cyan, magenta, yellow, and black. It is a subtractive mode that uses white as the natural color of the print background and black as a combination of colored inks.
Digital design files are RGB and the results usually look duller when converted to CMYK, so keep that in mind as you add color to your design. For example, if you see a bright red screen print on a white shirt and convert it to CMYK for printing, the red won't be as vibrant. You will then have to compensate for this loss and try to overcome it with tweaks.
Print on demand companies usually do direct-to-garment (DTG) printing and each supplier has different requirements. Therefore, check your supplier's website for what they recommend. For example, Printbest recommends RGB for best results; however, we also accept files in other color modes.
Most design software allow you to convert from one color profile to another. Printing companies can also convert for you, but converting yourself will give you more control over results.
3. Know the Printing Method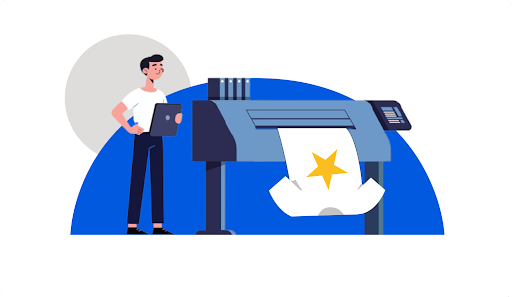 Printing methods have evolved gradually over the years. Screen printing was typically used for apparel, and continues to this day, especially for bulk orders. The downsides of screen printing is that it can be a challenge to add several colors, and the method is less suitable for fine details.
Print on demand relies mainly on direct-to-garment or dye sublimation printing processes. 
The dye sublimation process is when an image is printed on a special paper, and then transferred to the shirt.
DTG printing is similar to using an inkjet printer to print on paper, except you're printing straight on the T-shirt using special water-based inks absorbed by the fabric. 
The above methods don't limit minimum quantities. Plus they allow unlimited colors in your design and are more suitable for fine details. But bear in mind that DTG is usually limited to certain areas of the garment, whereas dye sublimation can print the entire garment.
Therefore, it's best to use DTG if, in your T-shirt design, placement of the print is at the center or any specific part of the garment. You can print gorgeous images with a single pass and even do small print runs at an affordable price.
As DTG is printed using a digital printer, it has fewer color restrictions than screen printing. This allows for more versatility since you aren't required to match colors by inks and pantones. Due to this, the print stays pretty close to true color.
Take advantage of DTG printing with Printbest. We don't charge any fees for adding more colors to your designs.
4. Design for the Garment Color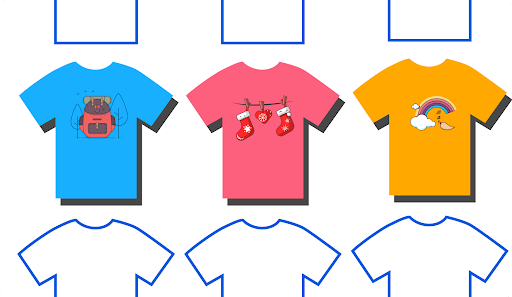 It's simpler to print designs on white T-shirts, but offering different color garments gives clients more freedom to choose.
When printing designs on colored shirts, keep in mind that bright colors may appear faded on darker backgrounds for some print on demand suppliers. However, at Printbest, we ensure that no matter what T-shirt color you choose, your illustration and typography appear as close to the design as possible.
Whenever possible, avoid using the same design color as the garment itself (such as printing a red design on a red T-shirt). Moreover, be careful about using white ink elements on bright-colored shirts, as they might look tinted. This is most obvious on maroon, red, and other similarly colored shirts.
Bring out your design using contrasting colors. For example, if you have to print a design on dark and light shirts, consider using the same design but with different/inverse colors. This will ensure your design doesn't get lost in the gamut.
5. Use Transparency to Your Advantage
Transparency helps you avoid clunky or boxy backgrounds in images. A photo just sitting on a T-shirt with plain edges can look uninteresting or even cheap and unprofessional. Consider a floating design instead of a big square on the shirt.
It's best to save your design as a portable network graphic (PNG) file to keep transparency. Usually in PNG files, transparent areas show a checkered pattern (that won't print). Even if you're printing on a white shirt, be sure to remove the white background and use a transparent background. Otherwise you could end up with a large white square on your shirt. 
Moreover, black ink usually appears gray on black shirts because of the white underbase used during printing. So, keep these areas completely transparent when designing artwork for black T-shirts.
We also recommend avoiding semi-transparent graphics (or elements with lowered opacity) as they do not translate well in DTG printing. We advise using solid colors or simulating semi-transparency by halftoning.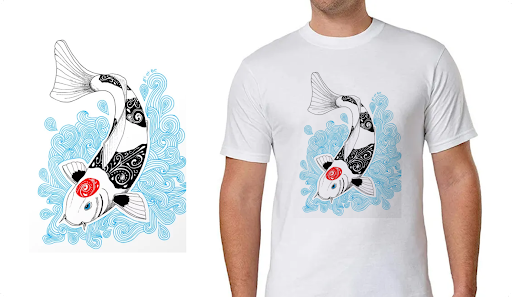 Before you confirm the new product, make sure you see your design mocked up onto a model's photo. Your design by itself on a flat surface will look quite different from your design on a shirt worn by an actual person.
The mockup will also help you visualize T-shirt design placement. The shape of the human torso can visually distort the design so it's best to mock up your design on a model's photo instead of viewing it as a two-dimensional file. Print it out if needed and place it on an actual shirt. Make sure you view your design at the actual size before you take it further.
Printbest generates free mockups for products. All you have to do is select the product that you want to add to your store, choose the colors and sizes you would like, and upload your file to generate a mockup. You can also use our mockups for your product photos in your online store.
T-shirt designing can be fun and a great way to generate an income stream. You can take design inspiration from almost anything, from celebrities to quotations that anybody can relate to. However, when it comes to T-shirt design, being aware of different factors helps you make smarter decisions. It also trains you to become a wiser designer.
Whether your objective is to design custom T-shirts for everyday use or create a promotional shirt, these six tips will help you in making the perfect design!
Ready to get started? Use Printbest for 20% lower prices than other print on demand suppliers. We help entrepreneurs, artists, graphic designers, and small companies sell printed merchandise more easily by printing and dropshipping it straight to their consumers without any Printbest branding.