Are you planning on opening an online clothing store? If so, T-shirts can make a great choice of item to sell.
T-shirts are one of the most popular clothing items, selling just over $5 billion in 2022, and there are numerous reasons for their popularity. For one thing, they are easy to wear, making them ideal for sports or casual occasions. For another, T-shirts are affordable and, in most cases, durable. While in most cases they are used as a practical clothing item, T-shirts can also be very fashionable.
T-shirts get their name for their classic "T" shape, but many different types of T-shirts have been created over the years. Here we take a look at some of the types of T-shirts that are ideal for selling in your online store. These include the best types of T-shirts for printing to help ensure your designs sell well.
The Best Types of T-shirts for Custom T-Shirt Stores
Basic Half Sleeve T-Shirt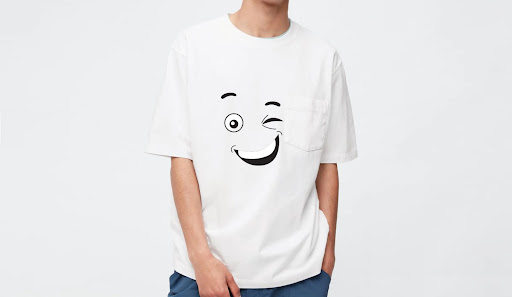 This type of T-shirt is the most common and likely the most popular of all types of T-shirts for printing. The design is simple yet still looks great, thanks to the neckline that's close to the neck. While comfortable and ideal for casual occasions, this T-shirt can also be used for dressing up and looks great with jeans. Another good reason to sell these T-shirts in your online store is that it's appealing to both men and women.
Customize T-shirts and more to sell
You design, we print and ship whenever your online store gets an order.
The ringer T-shirt has a crew neck design, with the neck's hem made from a thicker band of material. Not only that, but the hem at the end of the sleeves is also made from a thicker band of material. These bands are typically colored differently from the rest of the garment, creating a clear contrast.
Sleeveless, this type of T-shirt loses the classical 'T' shape. Instead of sleeves, there are thin straps for the shoulders that help the T-shirt hang in place. This type of T-shirt, also known as a singlet, is especially roomy, making it ideal for sports. It is a favorite among runners in particular, while you will also often see one in a gym. They are not usually the best option for social occasions, casual or otherwise.
The muscle shirt is very similar to the half T-shirt in that there are no sleeves. However, the muscle shirt is a tighter fit than the singlet, making it ideal for people with a toned physique. The muscle shirt and singlet are only really suitable for sports or wearing at home because they expose a lot of the body. You will find that many establishments, like upscale restaurants, will not allow you in if you're wearing a muscle shirt.
Of all the different types of T-shirts, the half-muscle is the ultimate option for showing off one's physique. Its lack of sleeves helps make the upper part just as revealing as the standard muscle T-shirt, while it's even more exposing on the bottom half. Falling just above the Navel, this T-shirt leaves little to the imagination and is best for people with a flat stomach.
Long Sleeve Crew Neck T-Shirts
The long sleeve crew neck is basically the same as the basic half sleeve, but with longer sleeves. The long sleeves make it ideal for chilly days that are not quite cold enough for a sweater or jacket. These T-shirts are great for nights out, and the long sleeves might make them appropriate for establishments with a restrictive dress code. They can also be ideal for runners and other athletes who want to keep warm while exercising in cold weather.
Wide Neck, Off the Shoulder T-Shirts
As the name suggests, these T-shirts have a wide neck that makes them look like an off-shoulder top. This garment is for women, with the exposure of a shoulder adding a sexy touch to the garment that helps make it suitable for clubbing and other social occasions. In addition to great looks, this loose T-shirt is also comfortable enough for lazing around the house.
Baby doll T-shirts are short, tight-fitting garments for women. They were most popular in the 1990s but are still preferred by many people today. The design of the T-shirts helps women show off their figures without being too revealing. These T-shirts come available in short sleeve or long sleeve varieties.
Turtleneck T-shirts have a raised neck that completely covers the chest and part of the lower neck area. Turtlenecks are quite tight around the neck, meaning they are not the best option when it comes to physical activities. However, this design can look very smart, especially when worn under a blazer or similar. This makes them a popular choice for nights out, while turtlenecks will even be suitable for some formal occasions.
The first and arguably the most important step is to perform an analysis of your incomings and outgoings. The analysis should include breakdowns of your income and expenditure and their effect on your bottom line.
Performing an analysis will help you in several ways. Perhaps the main benefit is that it helps you see everything at a glance and helps you identify areas that can be improved.
Longline T-shirts fall much lower than most other T-shirts do, even down to the knees in some cases. One benefit of the longline T-shirt is that the shape can help make people appear slimmer. Longline T-shirts are usually a loose fit, while the extra canvas allows for more creativity in designs, making them one of the best types of T-shirts for printing.
As the name suggests, pocket T-shirts have a pocket on them. The pockets are usually small and located on the chest area, meaning they aren't always practical. However, the pockets can be used to hold cash notes and other lightweight belongings, while they also help contribute to the T-shirt's aesthetics.
Boyfriend T-shirts are so-called because they have been adapted from men's T-shirts to fit women. These T-shirts are typically very loose, making them very comfortable and ideal for wearing around the home. They are also ideal for casual social events, and they are among the best types of T-shirts for printing.
Raglan Sleeve T-shirts have a crew neck and ¾ length or full-length sleeves. However, the sleeves are attached to the main body of the T-shirt by diagonal seams that go from the underarm area to the neckline. The sleeves will often be a different color from the rest of the T-shirt. Raglan sleeve T-shirts are best for playing sports in cold weather, or casual social occasions.
You can probably tell by the name that baseball T-shirts look like those worn by baseball players. They are basically a type of raglan sleeve T-shirt, and the sleeves are often a different color from the rest of the garment. Baseball T-shirts are usually quite loose, making them suitable for baseball and other sports.
This type of T-shirt has an opening at the front just under the neckline. The opening can be buttoned up, helping make the Henley collar T-shirt a great option if you're looking for something smart-casual. These T-shirts also come in short sleeve or long sleeve varieties.
The V-neck, also known as the football jersey, is very similar to the basic half sleeve. The main difference between the two is the "V"-shaped neckline that feels looser around the neck area. The easy to wear nature of the V-neck makes it a popular choice for athletes, although it still looks great for non-sporting occasions.
Scoop neck T-shirts have a low neckline that reveals much of the chest. This T-shirt is often worn by men who wish to show off a bodybuilder's chest and can come in a tight or loose fit. The tight fit variety will help the wearer show off their physique further.
Yoke necks have a separate yoke, which is the part that runs across the top of a T-shirt. The yoke section will often be a different color from the rest of the garment, while they will also sometimes be embroidered.
Which types of T-shirts are best for your online store will depend on numerous factors. For example, if your target audience is made up mostly of people interested in cardiovascular sports, then loose-fitting T-shirts will likely be the best option. On the other hand, if you are targeting people looking for casual wear, you should look for options that are comfortable and look good.
As with any business, it's always best to do your research first to help ensure your products are appealing to the people who will visit your store. Not only does this mean using the right style of T-shirt, but research into printed designs is also important. If you are planning on selling your own designs, it's best to use the best types of T-shirts for printing to get the best results
If you're selling printed T-shirts, you will need a reliable print partner. The team at Printbest has the experience and know-how to help ensure you sell quality designs that visitors to your site will just love. Visit our catalogue here to see our extensive range of T-shirts for your online store.