If you're planning to start a T-shirt business, chances are that you've already heard about direct-to-garment, or DTG printing. This method of printing is extremely popular nowadays, particularly due to the rise of personalized products. 
Many marketing companies and retail brands are leveraging this technique to create custom products that showcase their identity and bring their message forward. Many T-shirt sellers and apparel printing websites are also using DTG printing as it gives them a quick and effective way to create new products for their customers. 
What is direct-to-garment printing? Is it a good option for T-shirt businesses? Read on to find out.
DTG Printing for T-Shirt Businesses
Also known as digital garment printing, digital apparel printing, and even inkjet-to-garment printing, DTG printing is very different from the iron-on printing method that has been used for decades. This process involves the use of inkjet technology to print patterns, shapes, images, and much more, on textiles. However, it uses a much larger inkjet printer than the one you may have at home to print documents.
This method is relatively newer compared to others, but it is a more practical choice when printing smaller quantities. 
DTG Printing vs. Screen Printing and Heat Transfer
There are several differences between direct-to-garment printing and other printing methods, such as screen printing and heat transfer.
Screen printing is a method where ink is passed through a mesh stencil onto the garment, and it remains on the surface of the fabric. It involves preparing a special stencil for each design that you want to print, which makes it much more expensive and time-consuming. If your design has several layers, each one will have to be printed through a separate stencil.
The DTG method leaves a single layer of ink to create your final design, whereas screen printing produces several layers.
On the other hand, heat transfer makes use of heat transfer substrates and eco-solvent printers, and inks to print high-definition full-color designs and images onto the fabrics. Before the printing takes place, manufacturers use a machine to cut the design into the right shape for printing. This involves removing the extra substrate from the design so that the design prints properly onto the fabric. Generally, heat transfer is lightweight and compatible with several types of fabrics.
Unlike heat transfer, the DTG method involves printing all the colors at once. It involves spraying the ink directly onto the garment, which is soaked into the fibers of the garment.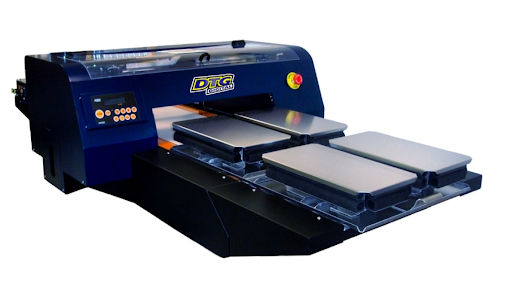 Direct-to-garment printing was introduced in 1996 in the U.S. with the invention of the first-ever commercial printer called the "Revolution," which was invented by Matthew Rhome and developed by a company called DIS. The design for the DTG printer was patented by Rhome in August 2000. Later on, he left the DIS company and moved on to Brother, where he developed another DTG printer, which was launched in 2005.
During this time, several companies came up with their versions of the direct-to-garment printer, which led to a revolution in the personalized garments industry. Some of these companies included Kornit, U.S. Screen, and Mimaki. All of the printers manufactured up to this point were highly expensive and the cheapest printer could be found for $10,000.
Another revolution in direct-to-garment printing occurred when U.S. Screen introduced white ink for its T-Jet printers. This allowed companies to print designs on dark garments, which wasn't possible before. Later on, several manufacturers innovated upon the white-ink concept to make printing better and more professional.
In 2009, DTG Viper revolutionized the DTG printing market with its unique belt-fed system for higher efficiency. Following this in 2011, the DTG M2 came to the market and offered the first-ever DTG printer that wasn't repurposed from an Epson printer. Today, several T-shirt makers and online apparel printing websites make use of DTG printing for their business.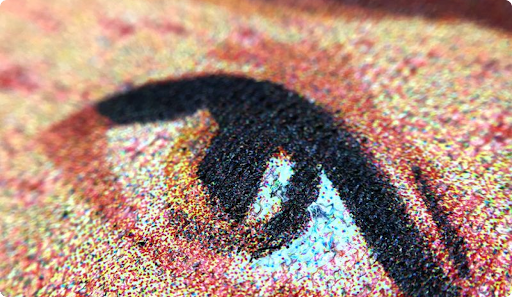 DTG print technology works quite like a normal paper printer. To start the process, you need a digital file of the design, the DTG printer with ink loaded, printer software, and the garment on which you want to print. Whether you make the designs yourself or have a designer prepare them, you can import the design onto the printer software.
Once you have done this, you can place the garment on the flatbed of your printer. Click "Start" on the software, and the printer starts to spray the ink onto the fabric (multiple colors on a single pass). Once the printing is complete and the printer stops working, you can remove the fabric and place it on a conveyor dryer. 
Why T-Shirt Businesses Love DTG Printing
There are several reasons why T-shirt sellers and apparel printing businesses are fond of DTG printing:
DTG printing allows you to print designs in smaller batches. As there's no minimum order quantity, you don't have to keep inventory. This also makes DTG printing suitable for print-on-demand businesses that take custom designs from clients.
Another great benefit of DTG printing is that it is much more cost-effective and more affordable, especially when it comes to short print runs. This translates into lower costs to the final consumer.
DTG printers are also highly efficient in printing intricate details and full-color designs on T-shirts, which make the merch much more vivid and bright. If the customer follows care instructions, the printed T-shirt can sustain numerous washes.
With some technology (e.g. Kornit brand printers), the process becomes more eco-friendly as less water is used.
DTG printers can print full-color designs much faster than other methods, particularly because they don't require the use of specialized stencils or heat transfer substrates. There's no setup time and all colors can be printed at the same time.
Why T-Shirt Businesses Don't Love DTG Printing
There are some reasons why T-shirt businesses might not be the biggest fan of DTG printing, such as:
If the care instructions for custom printed T-shirts aren't followed, the printing may quickly crack and fade. Therefore, DTG printing isn't quite as long-lasting as screen printing or high-quality heat press, but the price is a lot lower than these methods.
Not compatible with some fabrics
DTG printing isn't suitable for fabrics made from materials other than cotton, but thanks to Printbest, you can get your designs printed on blended fabrics that contain a certain percentage of cotton in them. However, keep in mind that pure cotton yields the best results.
Not suitable for mass printing
DTG printing might not be the best option for mass printing, since you have to print one garment at a time, This makes it slower if you have a bulk order. At high quantities, you'll hit a break-even point when screen printing becomes more affordable.
Limited placement options
Since DTG printers have a flatbed where you place the fabric, it can be quite difficult and time-consuming if you want to print collars or sleeves.
Who's Using DTG Printing?
Now that you have an idea of the pros and cons of DTG printing, let's have a look at the types of companies that are making use of the technology.
Print on demand companies
DTG printing technology is best for print on demand services as it allows them to print single shirt orders as they come in.
Customize and print T-shirts
Starting selling DTG printed apparel in your online store. Enjoy low prices and fast fulfillment.
Commercial printers are also making use of DTG printers to cut down on the time and cost required to print designs on fabrics, especially on smaller orders. Plus, it also helps them save space, since DTG printers take up much less room. It provides them an affordable alternative to investing in expensive screen printing equipment that requires lots of space and personnel training.
Many T-shirt businesses are using DTG printing to print custom designs on fabrics quickly. While some are buying from suppliers (e.g. print on demand companies), others are investing in their own machinery (which requires a large budget but provides complete control of the process).
What DTG Printing Means for T-shirt Businesses
Here are some reasons your T-shirt business should consider using DTG printing.
New apparel sellers can get into the business
DTG printing has already opened up many avenues for T-shirt businesses and it has allowed new businesses to enter the market without having to spend a lot of money. Moreover, new businesses don't have to stock up on inventory as they can simply print T-shirts on demand and sell them.
Another benefit of DTG printing for businesses is that it provides them with more B2C (business to customer) orders. That's because individuals tend to order smaller quantities (e.g. one T-shirt) whereas corporations place big orders. DTG prints smaller quantities, so you can sell more to individual customers.
Great for artists and photographers
DTG printing also allows artists and photographers to get into the business without having to invest a lot of money. They can simply design their T-shirts with unlimited colors. With DTG, it costs the same to print a one-color low-detail design as a multicolor, detailed artwork. Moreover, unlike screen printing, DTG can replicate photographs realistically.
You can personalize each shirt if you wanted to because there's no minimum order quantity for each design. This is good because the personalization trend is on the rise, especially among young people.
DTG also saves businesses from the hefty cost of printing large quantities of T-shirts, which might not sell at all. You can test new designs affordably (without committing to large print runs). If you print something that doesn't sell, you can always change your design or tweak it a bit.
In a nutshell, direct-to-garment printing is a highly useful and cost-effective method that allows small or new T-shirt businesses to grow their sales and revenue without having to spend a lot of money. Plus, since it reduces the starting cost of the business, it provides entrepreneurs the chance to level up their business and receive more sales.
If you have a T-shirt business and are looking for a printing company that does all of the grunt work for you, try Printbest. We are one of the most affordable and timely DTG apparel printing companies, and you can benefit from our expertise by getting in touch with us today.