If you're planning on getting involved in ecommerce, you might be wondering: "Is print on demand profitable?" The simple answer to your question is that it can be very profitable, although it's important to maintain a healthy profit margin.
A T-shirt business profit margin is one of the most important metrics for an online store. The profit margin is the difference between how much it costs to make your products and how much you sell them. The higher your profit margin, the more your bottom line will increase with each sale you make.
However, making a business profitable is easier said than done, and countless business owners have failed in the past. So we've created this brief guide on how you can increase your T-shirt business profit margin.
How to Increase Your T-Shirt Profit Margin
The first and arguably the most important step is to perform an analysis of your incomings and outgoings. The analysis should include breakdowns of your income and expenditure and their effect on your bottom line.
Performing an analysis will help you in several ways. Perhaps the main benefit is that it helps you see everything at a glance and helps you identify areas that can be improved.
Keeping costs down is essential for any T-shirt business profit margin, and lower costs mean a healthier profit margin. This is where your analysis comes in. Your analysis should clearly tell you how much you are spending and on what. If, for example, you're spending a lot on transportation, then it could help to look at more affordable alternatives.
Some potential areas where a T-shirt company can reduce their costs include the following:
One way to increase your profit margin is to reduce how much each item costs you. With that in mind, it's a good idea to look at your materials and the production process. However, when evaluating the costs of materials, it's important to avoid going too cheap. If you do go cheap, your products will be of poor quality, decreasing how much people are willing to pay. 
Overheads for T-shirt businesses are typically utilities like rent and electricity, etc. While it's all but impossible to avoid such overheads, there are still ways you can bring the costs down.
For example, turning off lights and other electrical equipment will help keep your costs down, while you can also try looking at alternative power suppliers. If you're paying a lot on storage for your products, you might need to re-evaluate your business model and consider using an alternative like print on demand, if you're not already. Print on demand profit margins can be very appealing, while the model is also convenient for business owners.
Many T-shirt businesses start with one person running the business. However, you will need to recruit staff as business picks up and you have more on your plate. But employees don't come cheap and can put a considerable dent in your profit margins. Although you could consider using automation tools to help reduce your need for staff by taking on some tasks.
Reduce costs with print on demand
Skip inventory and risky investments. We'll print your T-shirts only when you get orders.
Use Cost-Efficient Marketing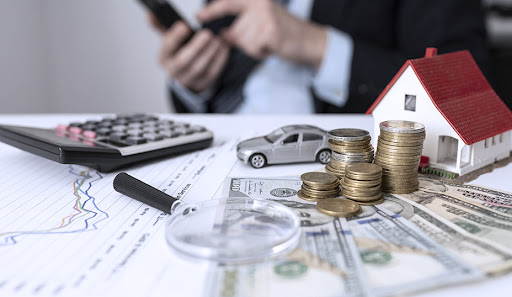 Effective marketing can help to transform a T-shirt business profit margin considerably. While most types of marketing are effective at bringing in more business, some are more cost-effective than others.
There are numerous cost-effective marketing methods that online stores can use, including the following:
Pay per click (PPC) marketing is one of the favourite marketing methods used by ecommerce stores. PPC involves creating ads that are shown online; whenever somebody clicks on an ad, they are taken to your store. Each click will cost just a few cents, and you pay nothing if nobody clicks on your ads.
One of the main advantages of PPC is that you can get results quickly. It's even possible that PPC will start sending traffic to your site within minutes of your ad campaign going live. PPC also makes it affordable for small businesses to compete online with larger companies, and you are not tied into long-term contracts, providing flexibility with your marketing budget.
Search engine optimization (SEO) involves optimizing your store, so it shows up in Google search results. SEO involves various aspects, including onsite and offsite optimization. Onsite optimization means adding content to your site and ensuring everything is structured to be friendly for search engines. Offsite SEO mostly involves generating backlinks on third-party websites.
SEO can be an extremely cost-effective method of sending a lot of good quality traffic to your site, helping you make more sales. However, it does take financial investment and it can take a long time before you start seeing results. As such, it should be considered a long-term goal and something that many fledgling store owners may not be able to consider to begin with.
Increase Perceived Brand Value
Value is one of the biggest driving forces behind purchases, and many people are willing to pay more for a product if they feel the value is worth it. And when people pay more per item, your profit margin increases.
Of course, boosting brand value is easier said than done, but here are a few steps you could take.
Bundling your products together will help to increase the value of each product. This is especially the case when you sell the bundle for slightly less than if you sold them separately.
When bundling products, it's usually best to choose products that can be used with each other somehow. For example, if you sell caps as well as T-shirts, a hat and T-shirt combo could be a great seller for you.
You can also consider giving away free gifts with each sale. An affordable giveaway like a keyring will help add value to your T-shirts, helping you sell them at a better price. In some cases, the price increase will be higher than the cost of the giveaway.
Value is closely linked with quality, and a better-quality product can offer better value than a lower-quality product at a lower price. With this in mind, it is often a good idea to pay a little more so you can offer better products to your customers.
While improving product quality will cost you more, the cost increase is usually more than recouped by selling at a higher price. Good product quality will also help encourage customers to recommend you to friends and family.
Perhaps one of the most effective ways to improve your brand's perceived value is to use better quality packaging. The power of quality packaging is that many people are willing to pay more for a product if the packaging helps the product appear good value.
Quality packaging doesn't have to be as expensive as it sounds. Materials like card and paper are affordable yet can also be used to create packaging that looks and feels great. Another advantage of materials like card and paper is that they are easy to work with, allowing for creativity.
Improve the Customer Experience
Quality and price are not the only factors that determine value. Another factor is the overall experience your customers get from buying your product. If buying the product makes them happy, people will be more likely to buy from you again and at higher prices.
One cost-effective way to improve the customer experience is to ensure your website is easy to use. Try to put yourself in your customers' shoes and take a tour of your website, asking yourself if there's something you can change to make browsing easier.
Another way to boost brand value is to focus on the unboxing experience. With a positive unboxing experience, your customers will feel more excited about your product and more satisfied after opening it. Personalizing your packaging or product is a great way to enhance the unboxing experience.
Your brand is not just the products you sell. Instead, it's the overall feel that people get from your company and how they associate with it. To help give people the right feels, you could try creating a community that revolves around your brand.
Building such a community is very affordable, thanks to social media platforms like Facebook. A Facebook page can be used to engage with your target audience and provide them with useful content. Your followers can also interact with each other to share interests and ideas, giving them more than just the products they bought from you.
You can also use social media to publish useful content for your followers. Your accounts can also act as a customer service channel and a key component of your marketing campaigns.
Maintaining a strong T-shirt business profit margin will help ensure your business remains in good shape for many years to come. Of course, it's not necessarily easy to do, but it can be achieved in most cases.
One of the most effective methods of increasing your profit margin is providing a quality service that allows you to charge more for your products. When it comes to T-shirts, you can achieve this with help from a reliable print on demand partner. A quality print on demand partner will help ensure your products are among the best around and that your customers have a positive experience with your brand.
If you want to know more about print on demand profit margins, the team at Printbest welcomes you to get in touch. Our team will be happy to answer any questions you might have and explain how the print on demand model will help your business flourish. You are also welcome to browse our catalog for an idea of the products we can supply for you.