In recent years, on-demand printing services have revolutionized the apparel industry. Most service providers are making use of direct-to-garment (DTG) printing to provide their customers with designs and logos they like. However, it is incredibly important for designers to know the image size that they need to maintain when  preparing new designs, so they can be printed to scale on the T-shirt.
Spoiler alert: There is no correct or predetermined size to follow when you are designing a custom image to be printed on a T-shirt. This also means that you might keep second-guessing yourself with every T-shirt design size you choose. However, you don't have to worry one bit, because this article guides you through the process of determining the right shirt design dimensions.
Image Size for T-Shirt Design
When it comes to determining the ideal image size for T-shirt printing, there are four key factors that need to be taken care of. Let's have a look at them one by one.
The first thing that needs to be considered is the type of garment you are going to print the image on. There are several different garments that you can get a custom design printed on, such as T-shirts, hoodies, tank tops, sweatshirts, long sleeve shirts, and several others.
The type of garment is an important consideration because it determines whether you have the entire surface of the garment to print on, or if you have to leave room for a design element or accessory, such as a pocket, hood, or collar. Since we are talking about T-shirt design dimensions, you know that T-shirts usually don't come with a front pocket like hoodies or shirts, which is why they have a larger area for printing.
Next, consider the size of the garment. The larger the size, the more space it will have for printing an image. At Printbest, the printable area begins 3″ below the collar on most men's and women's apparel. For Men's/Unisex XS, Women's S, and anything smaller, the printable area begins 2″ to 2.5″ below the collar. This should help you choose the right image size for T-shirt printing.
Generally, the maximum printing area for the front and back of a T-shirt is 12″ x 16″. Some printing companies, including Printbest, will shrink your design on smaller size garments so the image fits in the printable area. If your print provider doesn't do this, then it's best to design your files for S and XS shirts (up to 3″ x 4″ smaller).
Although a hoodie is much larger than the T-shirt, it has a smaller printing area on its front, measuring 13 inches x 10 inches on average.
Consider the type of printing that you want to go for. As mentioned above, DTG has become popular. But it isn't the only one. Other printing include screen printing, heat transfer, and dye sublimation printing.
DTG, screen printing, and heat transfer are limited to certain areas on the garment because they require a flat space, so they can't be used for printing on the entire garment. This means you'll have to design your file based on their maximum printable area requirements.
Dye sublimation, on the other hand, allows printing all over the garment, but it is a more expensive technique. If printing all over the garment, you will need to design based on the shapes and sizes of the garment's surfaces.
Therefore, you will have to determine the image size according to the maximum printable area provided by each of these printing methods.
4. Requirements of your print provider
The most important thing to consider while setting the T-shirt design size is the requirements that your print provider has put forth. You need to know about these requirements before you decide on a print provider, and more importantly before you start designing the image.
If you have to choose between different print providers that use similar printing methods and garments, you still have to consider several factors. For instance, each print provider may have a different workflow, equipment, product quality, and several other factors.
The best thing you can do is to work with a company that offers a user-friendly and intuitive interface that you can use to design the T-shirt to your liking. Printbest is one of the leading on-demand print providers that can help you choose the correct T-shirt size, color, and several other variables you need to get the perfect T-shirt printed.
Customize T-Shirts and More
Get your designs onto T-shirts, hoodies, tank tops and more. We'll print and dropship them.
The image resolution is as important as the image size itself. Plus, the type of image you have may also affect the resolution, and you can choose between non-vector and vector images. 
A non-vector image, also called a raster image, is one that can't be scaled beyond its full-size dimensions without loss of quality. 
If you are using a non-vector image, altering the size can lead to a change in the dots per inch, or DPI. Increasing the size will decrease DPI, the resolution will also decrease and the image will appear blurry or pixelated when printed on the T-shirt. Whereas, decreasing the size will increase DPI, which means higher resolution so your image can appear clearer. However, keep in mind that if the size is too small, it will make details hard to see.
Ideally, you should maintain an image resolution of 300 DPI, because it is generally recommended by print providers. Printbest will also take lower resolutions, but we don't recommend anything less than 150 DPI.
A vector image is a computer-generated graphic that's made up of points, lines, and curves that are based upon mathematical equations, not pixels.
If you choose vector images, you can increase and decrease their size as much as you want, since they don't involve the DPI. However, some printing companies require files saved as JPEGs or PNGs, which do not allow for vector elements. In this case, when saving vector files, make sure they are the right size and resolution.
The bottom line is to design your T-shirt at the the actual dimensions you want printed, at 300 DPI.
Thanks to Printbest and its user-friendly interface, you can alter the image resolution and size while also previewing the changes in DPI in real-time.
The placement of your design image is also something you need to consider before sending a file to your print provider.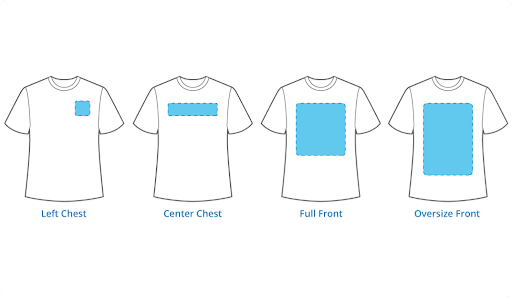 There are several common placement locations on the T-shirt that you can find, which are:
Left chest: You can get the design printed on the left chest area, which is typically 3" to 4" wide times your preferred height. It is suitable for formal and corporate purposes.
Front chest: Another popular placement option is the front chest, which can be 6" to 10" wide times your preferred height. It can be used for both casual and corporate purposes.
Full front: The full front option has a standard size of 12"x16", and it works best for more casual designs, usually for personal expression.
Back collar: This is a much lesser used option and is quite small, measuring around 2" to 3" width times your preferred height. It is usually just for branding purposes.
Upper back: This placement suits both casual and corporate styles, and is often used to identify staff or volunteers. It is usually 10" to 12" wide times the height of your choice.
Vertical left or right: A perfect option for team wear and branding, it usually measures 14" to 16" high times your preferred width.
Full back: The full back placement is more suited for casual wear, but can sometimes be used for corporate purposes. It typically measures 12"x16" (or the maximum printable area).
Sleeve: You can also get the design printed on the sleeves of your T-shirt for branding purposes, with an average size of 3" to 4" wide times your preferred height.
Although these are standard placements and measurements, this doesn't mean you have to follow them to the letter. You can alter the placements and shirt dimensions to suit your design better, and also for a more customized T-shirt design.
Don't Forget to Generate a Mockup!
Before you start printing, a golden rule is to always generate a mockup of your design as it would appear on the T-shirt. That's because sizes can appear quite different when you wear them as compared to a 2D design file.
For this purpose, you will need a print provider that provides you with an accurate and real-time mockup of the T-shirt when you upload your design. Luckily, Printbest offers you free mockups that you can use to check the placement and sizing of your designs on a T-shirt.
As you can see, there is no fixed template or sizing guide that you can use to set the image size for printing on a T-shirt. In this regard, the right size is the one you think will look best on the T-shirt, and it should also fulfill your requirements and the factors discussed above.
If you are looking to skip the hassle and get right to printing, get started with Printbest. As a reliable on-demand print provider, we not only help you get your custom design on a T-shirt, but also help you tick all the boxes through our high-quality products and easy-to-use interface. Get in touch with us to see how we can help.
Free business plan workbook
Plan your T-shirt business for success.