Among the many fashion trends that you may have come across, the trend of customized T-shirts has always been quite popular among customers, making it a  lucrative option for merchants.
If you aren't a creative graphic designer but want to sell custom T-shirts, there's no reason to worry. There are tons of resources where you can find royalty-free T-shirt designs. In this article, we bring you the best places on the internet where you can get free or low-cost T-shirt designs for commercial use, so you won't have to worry about buying designs or even paying a graphic designer.
Free T-Shirt Designs for Commercial Use
T-Shirt Design Images: Free Sources
Looking to get free designs for your T-shirts? Here are some options that you can explore:
1. Royalty-free image websites
If you have ever looked for images and designs on the internet, you may have come across the term "royalty-free."
Basically, royalty-free refers to a piece of art or digital asset that is free for public and commercial use. You usually have to pay a one-time flat fee, and can use the same image over and over, in different projects and places, for as long as you want.
Types of royalty-free images
There are two types of royalty-free images, which include:
Freemium model: This type of royalty-free image can be easily downloaded from the website, but the website requires you to sign up for an account before you can do so. 
Pay to subscribe model: You may also find websites where royalty-free images can be accessed for a small monthly fee. 
What to keep in mind when using royalty-free images
You may find different types of royalty-free images on several websites, and each website may have a different set of rules. For instance, a website may allow you to use the design on digital products, but not physical products, and vice versa.
When you are using royalty-free T-shirt designs, make sure to read the rules and conditions on the website from which you are taking the image. Some websites may even dictate how many times you can use the image.
Examples of popular websites for royalty-free designs
Some popular websites for royalty-free T-shirt designs include:
Freemium websites
Freepik: Freepik is largely popular for providing a wide range of designs, images, vectors, icons, PSDs, and much more. There is a lot of freemium content on Freepik, and you can easily find eye-catching T-shirt designs to choose from. Plus, you can even get T-shirt mockups to place your design and see how it looks.
Pixabay: Pixabay has a collection of more than 2.4 million stunning and vibrant images that you can choose from. You can search for a wide range of designs and images for T-shirts, and all you need is a free account to download most of these images.
Subscription websites
Shutterstock: Shutterstock is one the better-known image subscription websites. It has a large reservoir of T-shirt design images that you can explore. All images bought with subscription and image packs come with a Shutterstock Standard License that allows you to use photos for commercial purposes.
Canva: Canva provides you with a wide range of customizable and free T-shirt templates that you can use for commercial purposes. You can select designs according to different themes, and you can register your account to try out the design on a T-shirt, in order to see how it really looks. With Canva Pro, your monthly fee covers unlimited licenses and you can use the images for as long as you want.
2. Print on demand companies
When it comes to looking for T-shirt design images you can use for free, your next best bet is print on demand companies that offer you free graphics and T-shirt designs for printing. These companies provide a huge collection of customizable clipart that you can use for free to customize your apparel.
What to keep in mind when using print on demand images
If you are looking for a print on demand company that gives you vector images for easy editing, Printbest is the most reliable option. You not only get access to a wide range of vector images and T-shirt designs to choose from, but also have the freedom to use them for commercial purposes.
Be sure that the print on demand company provides vector images that can be easily edited or scaled. Non-vector images can appear blurry or pixelated on your T-shirts once they are printed. 
Also keep in mind that if you go with the generic designs and images that these companies offer, you run the risk of creating T-shirts that might not be entirely unique. You could produce a T-shirt that looks exactly like something another company is already selling, forcing you into unwanted competition.
Therefore, it is wise to choose vector images or designs from these companies' websites, but customize them as much as possible. Plus, you can also pair them with unique images, so that you don't entirely rely on generic designs.
Sell custom T-shirts and more!
Upload your design or create designs using our free customizable clipart. We'll print and dropship it.
Public domain refers to graphics, photos, clipart, and vector images with an expired license or no license to begin with. These images can be used by anyone or any business for both personal and commercial purposes. There are several reasons why an image or clipart might be in the public domain, including:
It possesses a Creative Commons Zero license or something similar
It can't be copyrighted
Its copyright has expired and hasn't been renewed by the owner
What to keep in mind when using public domain designs
There are several companies, designers, artists, and even museums that release images and pieces of art in the public domain. One thing you need to know about them is that they aren't entirely original, meaning someone might have used them already for T-shirt printing.
The best thing about public domain images is they can be used commercially for merchandising, branding, marketing, and any other purposes. However, they may be lower in quality compared to royalty-free images and those provided by print on demand companies.
Examples of popular websites for public domain images
Some popular public domain websites include:
Wikimedia Commons: This is one of the largest public domain websites, and it has hundreds of thousands of images that can be used completely free of cost. However, there may be some restrictions, so be sure to read the fine print.
FlickrCommons: FlickrCommons belongs to the popular website Flickr, and features public domain images from users all over the world. There are no copyright restrictions or limitations to the use of images from this website.
Old Book Illustrations: If you are looking for hand-drawn designs and illustrations, check out Old Book Illustrations. The images are scanned from old books and vector drawings.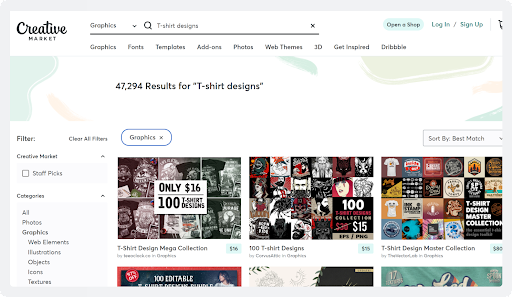 The Creative Commons (CC) license is a public copyright license that offers free distribution of copyrighted work. It is provided by the author themselves, who want to allow other people to use and share their work freely. There are two types of Creative Commons licenses: Licensed and Zero.
Creative Commons Zero is similar to public domain images and it waives any copyright, allowing people to use the artwork for commercial purposes.
Creative Commons Licensed requires you to obtain the license by paying a small amount or subscription fee, and it enables you to use the artwork for certain commercial purposes, but not all. Therefore, there are more limitations involved with it.
What to keep in mind when using these designs
Before you choose a design that has a Creative Commons license, make sure to check the terms of use to determine whether the image can be used for commercial purposes or not. Also, check whether a certain image will require you to attribute the author. On most websites, you can find a different section for images that are protected by Creative Commons.
Examples of websites with CC designs
Some websites that offer CC images include:
Pexels: Pexels offers a massive database of images and designs that you can use to print on your T-shirts. It mostly has real images from photographers and artists.
Pixabay: Pixabay is also a popular source for Creative Commons images, which you can find in a separate section.
If you are looking to design your T-shirts with something unique, you can never go wrong with the text. It can be a slogan, a quote, a brand name, and much more. You can even use fonts that resemble certain designs or symbols (such as Webdings), and they would add to the beauty of your custom T-shirts.
What to keep in mind when using text
Be sure that the font you choose is available for commercial use and doesn't come with a license or attribution requirement. Moreover, you should also be sure that you don't add any copyrighted or trademarked text to your T-shirts, otherwise, you may risk copyright infringement.
The best way to go about it is to find a print on demand company with a designer interface you can use to type and style text just the way you want. Printbest provides you with such an interface, as well as a wide selection of fonts to choose from.
Finding T-shirt Design Images for Free
You have a plethora of options to choose from when it comes to free T-shirt designs for commercial use. All you need to do is research properly, and the options will present themselves to you.
As you can see, you don't even need a huge design budget for printing customized T-shirts. Plus, when you have a print on demand company like Printbest by your side, there is no need to print T-shirts in bulk. Sign up to get your free account and start selling customized T-shirts today!