If you're wondering which platforms allow you to use print on demand, the good news is that most of them will let you use the model. Not only is it allowed, but you will also find tools that help you integrate a print on demand business into an ecommerce store.
This is great news for many entrepreneurs because it helps make owning a business more accessible financially and practically.
Print on Demand Integration with Ecommerce Platforms
Print on demand is a fairly straightforward business model that helps make owning and running a business easier and more affordable. The business model has seen a steep rise in business in recent years and is expected to rise by 25% between 2020 and 2030.
The model involves customers making orders from your website, which your print on demand partner prints and sends directly to your customer. Your print on demand partner takes their share of each sale and the rest of the profit is yours, making it a potentially lucrative deal for both parties. 
Print on demand offers numerous benefits, including:
No upfront payments
No need to store inventory
No need to manage inventory
Sell products with your own designs
No need to manage stock and send orders to customers
Print on demand tends to go hand in hand with ecommerce, and many platforms embrace the model to help ensure their users have a positive experience.
Ecommerce and Print on Demand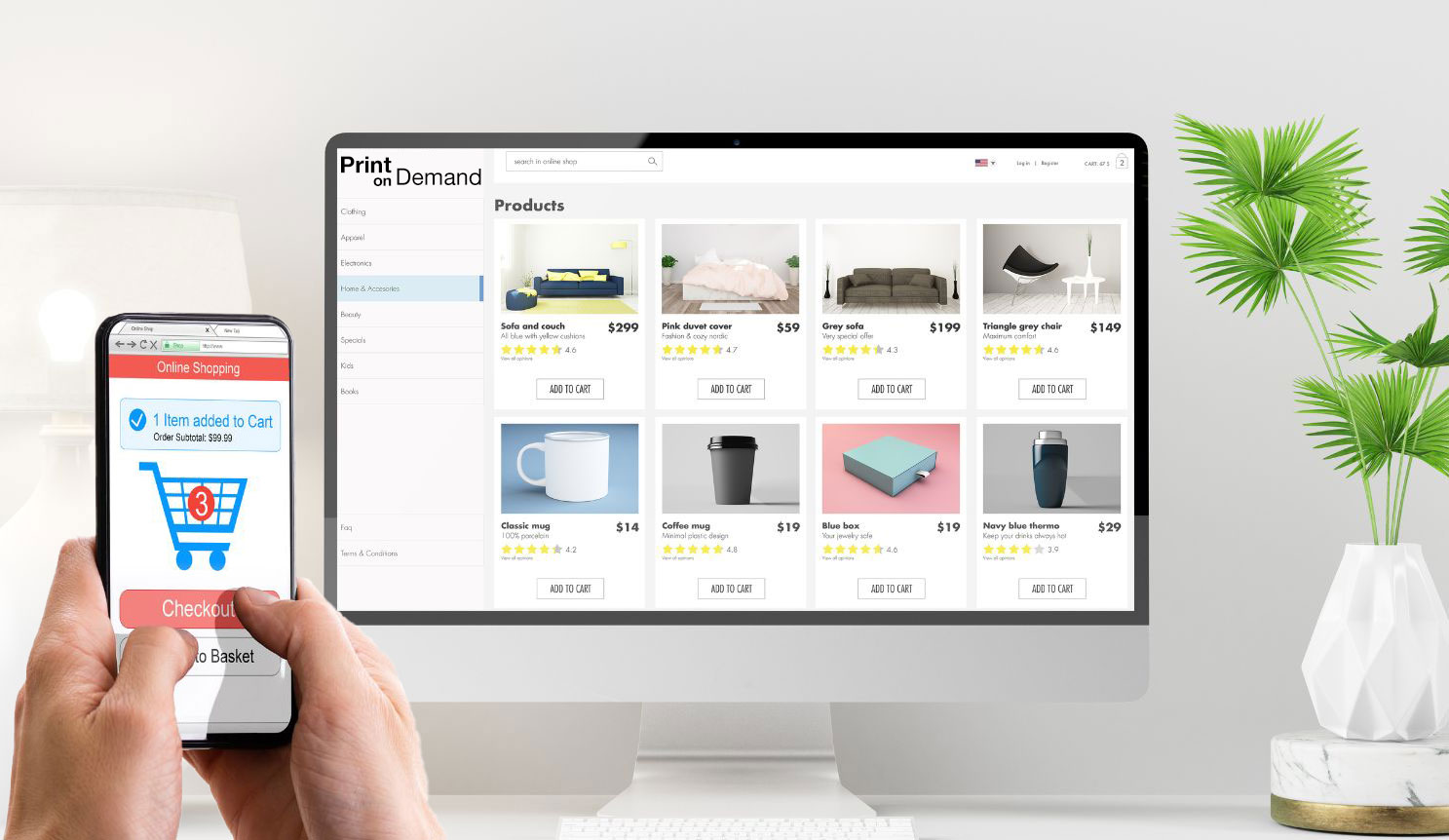 As mentioned, print on demand and ecommerce have an almost symbiotic relationship, with each benefitting the other. This fact alone also helps to make it easier to open a business because ecommerce stores are fairly easy to build, thanks to software that does the work without coding.
For example, if you want a particular image on your home page, drag and drop tools will let you drag the image to where you want it, and the software does the rest. If you want to add a menu, just drag it in place, and the job's done.
Not only do ecommerce builders help you build a professional and fully functional website with no coding knowledge, but they also offer a range of powerful tools that help you manage, maintain, and promote your business.
And ecommerce platform will support you with helpful tools, as do other businesses that can benefit from your business prospering. As such, there are numerous third-party integration tools that help make it as seamless as possible for you to do business online.
Ecommerce platforms have a vested interest in the well-being of your business, so rather than just letting you use third-party print on demand apps, they encourage them.
As such, platforms allow you to use tools and plugins that help make it easier for you to manage and promote your products and your brand. Using such integrations offers numerous benefits such as:
Timesaving: Third-party apps can automate much of your workload, helping you save time
Ease of Use: Third-party apps help make certain aspects of running a business easier
Affordability: Most third-party apps are free to use, although those that do require a fee are usually affordable
Expand Your Product Range: Installing a third-party app on your website can help you offer a more comprehensive product range
Scalable: Integration tools help you manage large workloads, helping you scale up your business
Flexible: Owning an ecommerce store gives you flexibility over more traditional alternatives, such as being able to build your store from home and in your own time
Get Started with Print on Demand
Our free print on demand integration connects with all the platforms listed n this article. Sell your own T-shirts, mugs, hoodies, and more!
Shopify is a popular ecommerce platform used by more than 1.75 million people globally, and Shopify merchants will have a collective of 500 million buyers by the end of 2022. The platform is one of the most popular among large stores because it offers an impressive selection of Shopify print on demand apps, ideal for people hoping to get into the online personalized printing industry. 
Shopify doesn't offer a free plan, although a free trial is available and paid plans start from just $5/month and go up to $299 per month for larger organizations.
The following pros help make Shopify one of the most popular ecommerce platforms on the planet:
Plenty of Apps: Shopify offers many apps that help enhance your online businesses
Many Payment Options: With many payment options, Shopify makes it easier for your visitors to buy from you
Great for Large Stores: Shopify has the features and infrastructure that help make it suitable for large businesses
Even print on demand Shopify stores have their drawbacks, including the following:
Not Easy to Use: Shopify is often not intuitive, making it harder for new users to build a store
Monthly Fees: Shopify's users must pay a monthly fee regardless of whether they sell any products
Etsy is an ecommerce store that focuses on giving individual artists and creatives a platform to sell their products. Etsy had approximately 7.5 million users in 2021, a steep rise from just over 4.3 billion the previous year. The platform works differently from the other platforms we've mentioned because instead of each store being completely separate, Etsy is instead more of a marketplace with many other stores in addition to yours.
Print on demand Etsy stores are popular partly because the print on demand model helps make it easier for entrepreneurs to get started, and with help from easy print on demand Etsy integration apps.
Etsy has become very popular for some very good reasons, which include the following:
Useful Analytics: Etsy offers useful analytics that help you fine-tune your platform for the best results
Easy to Use: Etsy is easy to set up and manage, making it a good choice for people with limited technical know-how
Lots of Traffic: In July 2022, Etsy had just over 485 million visits
Despite all the positives, Etsy does have some shortcomings, including the following:
Competition: Competition on Etsy is fierce, and prices have come down overall as a result
Limited to the Etsy Marketplace: Your store will be limited to selling within the Etsy marketplace only, meaning you don't have full control over your website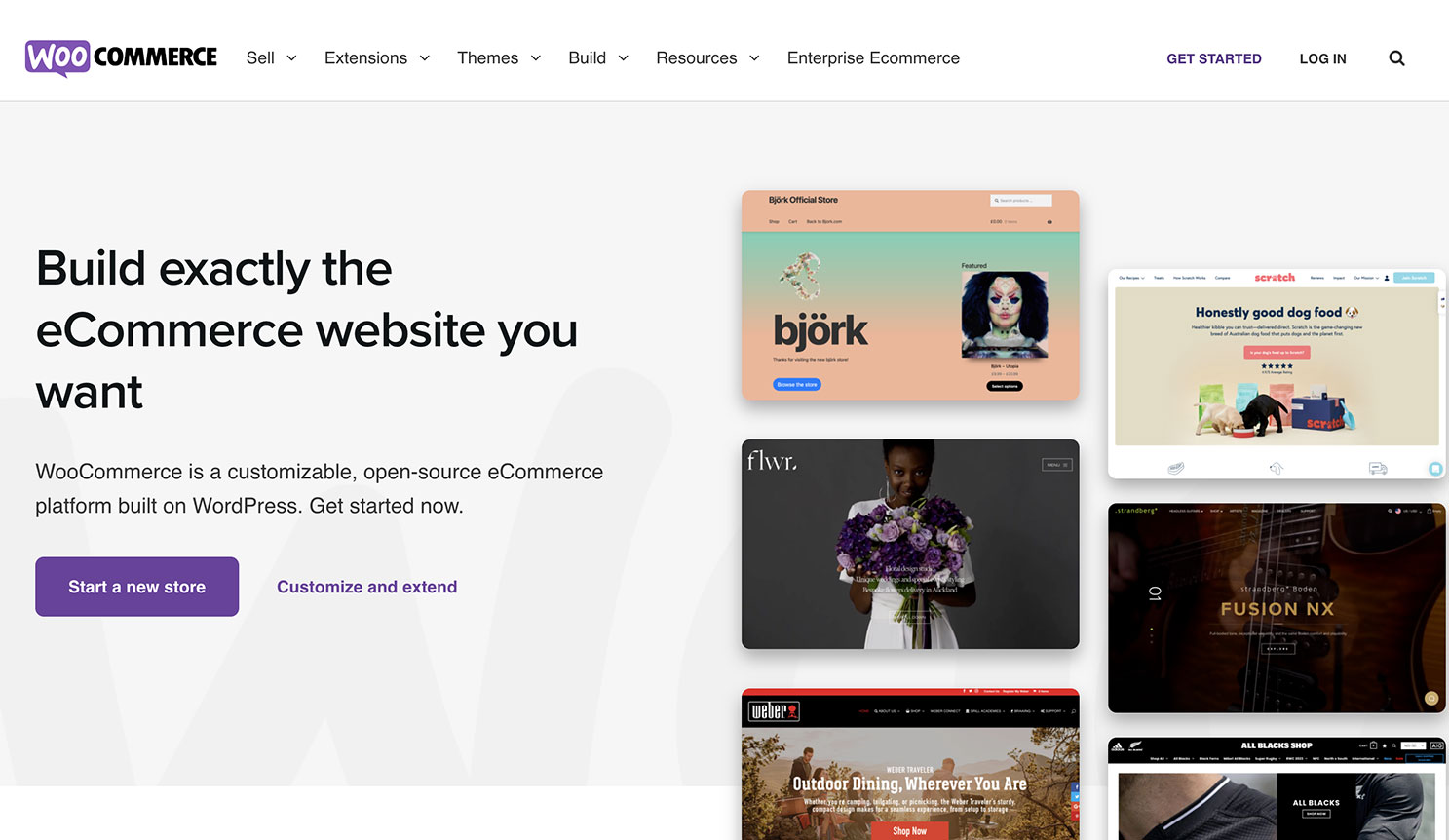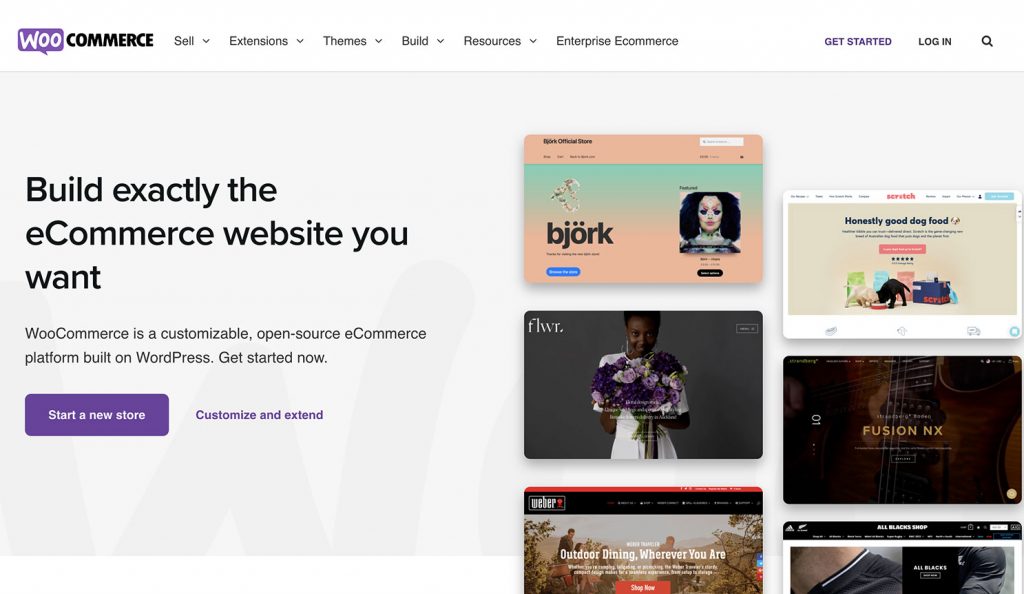 WooCommerce is another popular ecommerce platform that powers over 4.4 million ecommerce stores globally. WooCommerce is actually a WordPress plugin that gives you all the tools you need to build a great-looking and functional online store. WordPress itself is a powerful website-building platform that offers tools that help make it easier to build a website while also allowing coders to build from scratch.
WooCommerce is free to use, while you can also use the basic WordPress packages for free, making it ideal for fledgling companies. However, you will still need to pay for a domain name and hosting if you want your store to be live on the internet.
WooCommerce makes its money by selling powerful extensions that help make it easier to run an ecommerce store, and there are thousands to choose from.
WooCommerce offers various advantages for its users, including the following:
A Great Choice of Themes: WooCommerce offers a wide range of free and paid themes that help make it easier for you to build your store
Advanced Features: WooCommerce is a good option for many larger stores thanks to the advanced features the platform offers
Accounts: You can set up admin and customer accounts, helping make future purchases seamless for customers.
No platform is perfect, and WooCommerce has the following drawbacks:
No Central Support: Instead of having a central support team, WooCommerce instead has numerous support teams for different plugins and themes, meaning you might end up making lots of calls to fix problems.
Not Ideal for Beginners: Getting started can be difficult for new users, and some users might be tempted to use an alternative instead
Above are three of the most popular ecommerce platforms, but there are many more to choose from and which platform works for you depends on your needs and preferences. For example, if you design your own products, Etsy would be the platform for you, but it would not be a suitable option if you want to sell manufactured goods. Regardless of your needs, it's always best to do some research first to help ensure you find the right platform for you.
No matter which platform you use and how well you build your store, you will need to find a reliable print on demand partner if your business is to succeed. You need a partner you can count on to make a good quality product every time and ensure the products arrive safely and promptly.
The team at Printbest is a trusted print on demand partner that will help your ecommerce store blossom, with quality products and an excellent overall service. Not only that, but we also provide integrations for the platforms mentioned above, helping to ensure running a business is as easy as possible for you.
If you would like to know more about how our print on demand service can help grow your business, you are welcome to visit our product pages whenever you wish.