The COVID-19 epidemic created major upheaval in the way in which people buy products and transact business. While online shopping was popular before, the pandemic ramped up that activity tenfold. The good news? With a few key ingredients, a few hours each week, and a small amount of investment money, you can start a side hustle business that may develop into a thriving full-blown entrepreneurship—and could well become your full-time hustle.
A recent Etsy financial report shows the ecommerce platform is host to a robust marketplace, with revenue increases of 23% over the prior year. Another cool statistic shows "habitual buyers" are the fastest-growing market segment. These are customers who spend $200 or more and have made purchases on six or more days in the last year. This group grew 150% last year, totaling 7.9 million users. 
As a budding entrepreneur, you can tap into this demand and sell great products to that growing base of customers! Short on ideas for products to sell? Consider low-cost investments. You can create an innovative product that fulfills demand, requires little time to maintain, and doesn't require a warehouse to store goods. 
Like stickers. 
Here's our step-by-step process for how to start a sticker business, along with different ideas for how to make stickers to sell.
How To Start a Sticker Business in 5 Easy Steps
The Main Ingredients: What You'll Need To Get Started
Here's more great news. You won't need a whole lot to launch your successful sticker business. In fact, you probably have a lot of the following at your fingertips already.
Internet connection
Desktop or laptop computer (you may find it's easier to edit collateral and images with a desktop)
Camera
Software and/or platforms for designing marketing materials and spreading the word about your stickers
Investment money (say anywhere from $0.20 for one sticker to $50.00)
Basic design, photography, writing, editing, and computer skills
Bank account for all of your profits
With these simple ingredients, you're well on your way to sticker dominion! 
Step 1: Choose Your Audience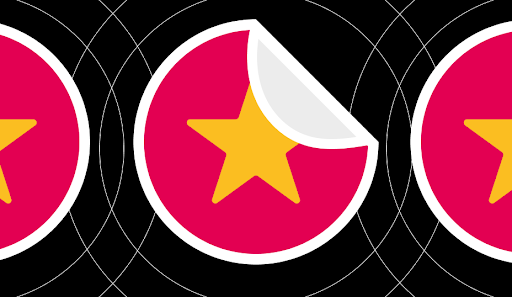 So, what kinds of stickers will you create? It's simple and intuitive. The best place to begin is to choose something you like and are passionate about. Maybe you love monster trucks. Or perhaps Mexican Serape fabric or, say, 1972 Porsche 911 Carreras. Of all these, maybe you most want to sticker the zooming world in 1972 Porsche 911 Carreras. What do you need to do? First, you'll need to consider your niche (as in, audience). Who are the other lovers of 1972 Carreras, and where do they hang out? How old are they? Where are they posting pictures of their souped-up rides? Try to get into the headspace of your customer. How old are they? Where do they hang out? Do they read magazines? On which social media platforms do they post?
It's worthwhile to do some research on whether there's Etsy competition. It's probably best to choose a niche where there isn't much competition. There are many examples of sticker businesses targeting specific audiences. Heck, there are even monster truck stickers, tons of Mexican Serape stickers, and even a few retro Porsche stickers.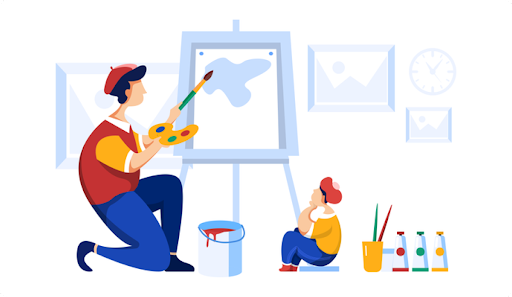 Next, you'll want to own your sticker designs. There are many options here: you can hand-draw your own custom sticker, photograph another work of art you've already created, or even partner with an artist you like to distribute their designs. You can even begin with a photograph to make photo-realistic stickers. Keep in mind that written consent is required to reproduce artwork. It's important to respect the intellectual property of creators—not to mention the need to be mindful of potential copyright infringement issues. 
Creating your own stickers?
For manufacturing stickers of your own designs, there are many options on Etsy starting at about $0.20 per sticker. Partner with an on-demand sticker printer, and if you choose to sell on Etsy, look for easy printer integrations—Printbest has integrations with WooCommerce, Shopify, and Etsy; and will release integrations with Wix, Ecwid, and SquareSpace shortly. To prepare your designs for print, check out design freeware (as in free software) like Canva. If you're creating photorealistic stickers of that 1972 Porsche 911 Carrera, you'll want to photograph your ride (or whatever other object strikes your fancy). You can use apps like Camera+ to edit and crop images, dial up vibrancy and saturation, and even insert white borders as you prepare your stickers for print. 
Manufacturing other artists' designs?
You can visit sites like Free Download to discover other non-copyrighted artwork. If you've identified an artist whose work you have permission to reproduce, consider a co-marketing campaign to promote the stickers across both of your social media profiles. 
Sell Customized Products Online
Printbest offers over 70 types of items to customize and sell, and we're constantly adding more!
Step 3: Create Your Online Store
Next, you'll create your own store to sell stickers online. 
If you create your own designs, Etsy is a logical marketplace choice for general ease of use and cost savings. Having an Etsy store is relatively simple, facilitates customer communication, and has an established consumer base. 
Don't create your own designs?
If you don't create your own designs, Shopify is a simple ecommerce solution. Alternatively, you can build your own WordPress or SquareSpace ecommerce site if you're comfortable with designing your own website, but you'll want to research the benefits of each platform. There are many customizable WordPress themes available on ThemeForest. but keep in mind that this is likely not the most affordable route—and is also time-consuming and annoying. You'll need $29.00 and $10.00 to $20.00 for a domain name via Shopify and domain registration from GoDaddy or another resource like BlueHost or Domain.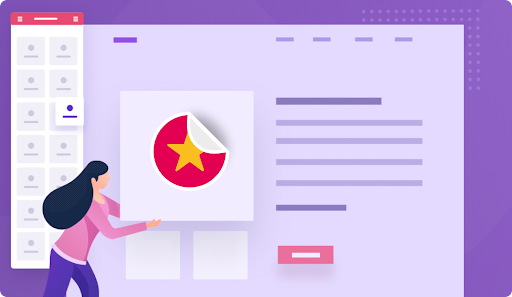 Now that you've got a platform to sell, it's time to find an on-demand sticker supplier. While choosing a printer, consider the following: 
Timeframe: How fast is turnaround time? How quickly will items be shipped?
Quality: How is the quality? Run a test order, or request a sticker sample pack. 
Materials: What are the stickers made of? Are they sustainably produced? How durable are they? Where will your customers be using the stickers, and will they stand up to weather and wear? Are they color-safe? 
Service: How are the reviews? Are there other satisfied customers?
Next, connect to your online store using the printer's integration or app to populate your products. Make sure to create unique descriptions: it's best not to use the printer's descriptions, as you need to create unique product titles. Failing to do so can negatively impact SEO results. You'll also want to use keywords in the title and descriptions, and to populate alt text for images. Don't know what these are? Here's a HubSpot primer. 
Step 5: Promote Your Products
Now you'll need to broadcast your products and be well on your way to Porsche sticker dominion. The easiest way to begin is to consider your marketing budget and strategy. How do you do this?
Your promotions budget can be zero dollars if you want to spend many hours promoting on social media, or simply start with a $50.00 paid campaign, and see what results you get. You can scale from here. 
Let's say that most Porsche owners you know are male race car enthusiasts between the ages of 35 and 52. Consider their mindset: they're likely fun-loving thrill-seekers with no sense of risk who love to drive and have expendable incomes. What kind of sticker does this person want, and how will they find it?
Let's say that most Porsche owners you know are male race car enthusiasts between the ages of 35 and 52. Consider their mindset: they're likely fun-loving thrill-seekers with no sense of risk who love to drive and have expendable incomes. What kind of sticker does this person want, and how will they find it?
Consider your presentation
Next, you'll need to design your collateral (or marketing materials). Canva is an excellent tool for this. You'll also want to promote on any platform where your audience hangs out. Instagram is an excellent place to target people using hashtags, and Facebook is a great platform for targeting people based on their interests. 
Broadcast your business. Tell everyone you know, and ask your family and friends to help spread the word. 
Congratulations—you've launched your future sticker empire in a matter of hours, worthy entrepreneur! How large of a dominion it becomes depends on many factors, but you're well on your way to having a side hustle that's flexible, scalable, and profitable—with high margins. How fulfilling is it to launch a business after work, and have potential profits so soon? 
If you're looking for other products to complement your stickers, visit the Printbest catalog for everything from T-shirts to puzzles and posters.