If you're thinking about getting involved in the custom T-shirt market, you'll be glad to know the industry is booming. The industry is expected to reach more than $3 billion in 2025, up from just over $2.2 billion in 2022.
There are many reasons for the surge in the market, with the rise of ecommerce being one of the main driving forces. Thanks to ecommerce, more people are now shopping online than ever before, opening new opportunities for people who wish to sell online.
The desire to get involved is helped by the fact that it's now easier than ever before to build your own ecommerce store. Just about anybody can build a great looking and functional store even without coding knowledge. Ecommerce platforms even provide tools that will help you manage your business. There's also the print on demand business model, which makes selling custom T-shirts affordable and relatively risk-free.
However, there is still a lot to think about in order to have a successful online custom T-shirt business. This includes building and marketing your store, designing your T-shirts, and using the best T-shirts for printing.
We've created this article to help you understand which T-shirts are best to use for your print on demand business
The Best T-Shirts for Print on Demand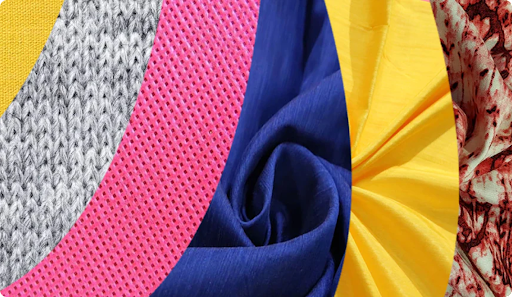 When deciding on the best T-shirts for printing, there are many different types of fabric to choose from. Different materials give T-shirts different characteristics, such as price, comfort, and durability, and consumers will want to be able to choose from a variety. 
Arguably the most popular T-shirt material is cotton, mostly because it's a strong and affordable material and is ideal for printing. There are different ways that cotton can be made, including:
Regular Cotton
Regular cotton is perhaps the most common type of cotton used in T-shirts. The material is affordable and strong, helping to make T-shirts that are excellent value for money. Cotton is made from the fibrous fruit of the cotton plant, with the individual fibers spun to make a thread.
Combed Cotton
Combed cotton is made from the same materials as regular cotton, except it has undergone additional processes. When making combed cotton, cotton strands are treated before being spun into a yarn. This additional treatment removes impurities, which helps make the final product softer and stronger. 
Ring-Spun Cotton
Ring-spun cotton also undergoes a different process than regular cotton does. The yarn is made by thinning and twisting cotton strands so they make a strong and fine cotton rope. In addition to being more durable, ring-spun cotton is also softer and more expensive than regular cotton.
Ring-Spun Combed Cotton
As the name suggests, ring-spun combed cotton undergoes the ring-spinning and combing processes. The result is one of the best quality T-shirts for printing that cannot be beaten for softness, strength, and comfort. The premium quality of ring-spun combed cotton is reflected in the price tag.
Not all T-shirts are made from cotton only; other materials include:
Flannel
Lined
Lycra
Polyester
Rayon
Silk
It's fairly common for one or more of the above materials to be mixed with cotton to produce a cotton blend. Mixing materials in this way results in fabrics with different characteristics, such as making them softer or more flexible.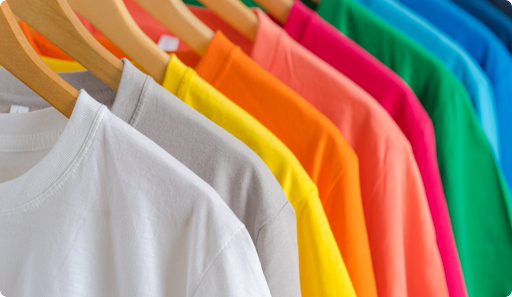 T-shirts are available in just about every color under the sun, giving designers more to work with. Not only is the color important when it comes to your design, but it's also important in terms of personal preferences. After all, ask a group of people what their favorite colors are, and you'll get a range of answers. Different colors also play an important part in psychology, potentially helping affect how people feel about your products.
Some colors are more popular than others when it comes to T-shirts, potentially affecting your sales. Below is a handful of some of the best T-shirt colors and how they impact people's feelings about your T-shirts and brand.
Black
Black is one of the best T-shirt colors because it is a 'safe' color that still looks stylish. The color can also invoke feelings of mystery, elegance, and sophistication.
White
White is a neutral color and is often the preferred choice when it comes to creating designs. White symbolizes purity and cleanliness.
Gray
Gray is another safe, neutral color. Although not the most exciting of colors, gray still makes an excellent canvas and is useful when it comes to matching other clothes.
Red
Red is a bright, vibrant color that instills emotions of energy. Although not ideal for many designs, it is perfect for designers looking for an exciting canvas.
Blue
Blue helps give the impression of professionalism and reliability. Often used in the corporate world, shades of blue also make a great background for T-shirt designs
Different types of T-Shirt Fits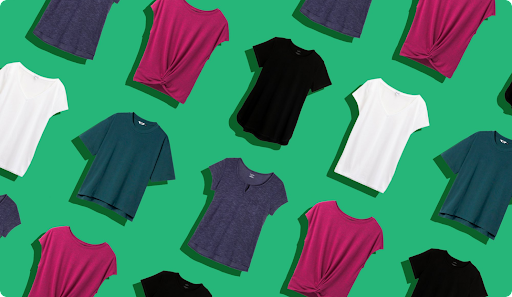 Just as important as the color of a T-shirt colors is how it fits. Many people will look for a specific fit, and it's a good idea to offer a range to appeal to people's preferences. People's preferences over how a T-shirt fits vary according to factors like how they use them, fashion, and body shape.
Below are some of the more popular T-shirt fits available:
Classic Fit
The classic fit T-shirt is one of the most popular types there is. Classic fit T-shirts are comfortable but not baggy, making them suitable for many occasions.
Regular Fit
Regular fit T-shirts are a fairly snug fit but still give room for movement. They help make for a relatively smart wardrobe piece, making them suitable for social occasions.
Slim Fit
The slim fit is one of the tightest of all T-shirts. Its tight-fitting nature means it reveals the wearer's body shape, making them ideal for toned people.
Loose Fit
The loose fit doesn't cling to the skin and offers the wearer plenty of room. The looseness makes these T-shirts ideal for most sports and other activities while also making them great for chilling out at home.
The Best T-Shirt Brands for Printing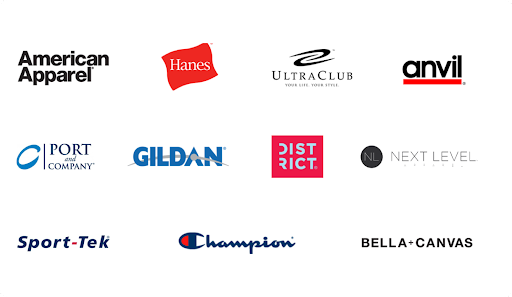 T-shirt manufacturers are aware of the popularity of custom T-shirts. As such, some of them have created ranges suitable for custom printing, so using these brands will help ensure you get the best results. Of course, it's important to ensure that each product is suitable for printing because manufacturers will produce a range for their customers meeting different specifications.
Below is a selection of some of the best T-shirt brands for printing custom T-shirts.
Champion
Champion is a well-known T-shirt brand that is perhaps best associated with sports. They offer a variety of quality T-shirts in a range of styles and materials, including the Heritage Jersey Series that's soft and comfortable.
Gildan
Gildan makes a range of T-shirts and other apparel. One of their best options is the G500 heavy cotton series, which is durable and available at a low price.
American Apparel
As the name suggests, American Apparel offers a good selection of T-shirts and other apparel. The company's Unisex Fine Jersey 2001 Series provides a stylish contoured fitter look and falls into the mid-price range.
Bella + Canvas
Bella + Canvas is a wholesaler of a wide range of clothing items, including T-shirts. The brand's 3001 series is known for its comfort and falls in the mid-price range.
Next Level
Some consumers will be much more interested in quality than price, making it a good idea for some custom T-shirt companies to offer the Next Level Sueded series. This T-shirt is breathable and very soft, helping to make it one of the best quality T-shirts for printing. It is at the higher end of the price range, but many people will be more than happy to pay for the premium quality.
Customize and sell now!
Choose from a huge variety of T-shirts. Customize them with your designs. We'll do the printing.
Above is just a small selection of T-shirts that meet different requirements while also being suitable for printing.
The importance of choosing the right T-shirts for Print on Demand cannot be understated. For one thing, it's necessary to have materials suitable for printing so the design is clear. You will also need to ensure your T-shirts are in demand, with styles and a price that helps make them appealing.
You may not always choose the right T-shirts to begin with, but this is where another advantage of using the Print on Demand model becomes evident. The advantage is that you don't have to order your T-shirts in bulk; you can order them individually instead. This means that you can experiment with different T-shirts first, helping you find the perfect combination while limiting your financial risk.
Another important consideration is finding a print on demand partner you can count on. The right partner will produce high-quality prints for you and offer a range of the best quality T-shirts for printing and other apparel to print on. With Printbest, you can be assured of high-quality products and an excellent all-round service for you and your customers